Grandma graffiti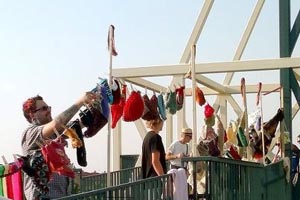 Yarn bombing – art or crime?
On Thursday September 1st, the bridge connecting the Sculpture gardens and Loring Park in Minneapolis was bombed – yarn bombed that is.
The Minneapolis based yarn-bombing group, the "Swatch Team," knitted and collected over 1,050 feet of hand-made items and strung them on a clothesline along the walkways on either side of the bridge. But they are not the first to cozy up the urban landscape.
For those who are not familiar, yarn bombing is a new art form that has been warming cities across America from Portland to New York. Christina Elias, leader of the Minneapolis Swatch Team explains, "Yarn bombing in general is a form of knitted graffiti. Often you'll see people wrap a pole or… cover a tank with knitted material and they call it a yarn bombing." And though technically it is illegal, Christina insists that it is usually "gently received, because it doesn't create any permanent damage like spray paint."
Yarn bombing has only recently gained a following in the Twin Cities through the Swatch Team, a group of knitters that are different from most bombers. Instead of knitting a "bike lock cozy" that has to be thrown away, Christina says, "we do useful items, and we do installations that have a title and a message."
For example, their latest bombing of the bridge was called "We are all connected" and the items were all free to take. Ultimately, the bombing was aimed to connect the homeless who live in Loring Park with the Sculpture garden patrons, and the items were all desperately needed winter gear. "We're creating that connection and a bridge represents that so deeply, I think."
Paulina, another founding member of the Swatch Team, notes how "people cannot believe [we] spend like fifty dollars making something and then… give it away… [They say] 'What are you crazy?' We just say 'yeah!'" So whether you think these knitters are indeed crazy, or you want to join the team yourself (http://www.facebook.com/pages/Swatch-Team/160124730685345), I think we all can take something from their message that will warm our hearts.
About the Writer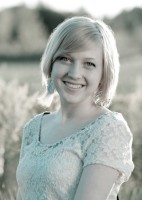 Claire Kelloway, A&E
Claire Kelloway is a Senior this year and the Art & Entertainment Editor for Breezes. This is her first year working for the paper but she is quite...