One rapper, one street artist: two talents named "Blu"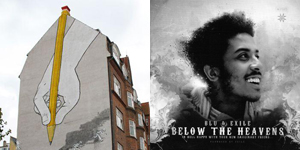 Claire Kelloway & Sam Schmieg, A&E Editors
April 27, 2012
Street Art – Claire Kelloway
Over the past decade, street art has quickly moved from a crime to a recognized art form. More and more street artists are becoming house-hold names, and even more importantly being featured in serious art museums. For those who are less familiar with the genre, the cutting edge nature of street art means it encompasses many media from music to sculpture. However, two-dimensional works like graffiti and murals are by far the most popular, and one muralist every street-art connoisseur should know is Blu. In recent years his "moving-mural" Youtube videos have become immensely popular (with reason) for their surrealist style and awe-inspiring work ethic.
It might surprise you to learn that Blu has been around for over a decade. Born somewhere in Italy, this artist keeps his real name unknown due to the illegal nature of his artwork. As a street artist, he is similar to his famous contemporaries Banksy and JR in that he travels the world creating giant works of art in public places. Unlike most, his work has a notable lack of aerosol, using house paint to create his larger than life pieces. Blu's most popular work, the short film Muto, is free to view on Youtube, and currently boasts over 10 million views. The video is seven-plus minutes of stunning artistry, created with the painstakingly slow technique that is stop-action animation. But Blu pulls it off with commendable creativity, making use of city sidewalks in addition to walls. His images are as living as their real world canvas, continually growing as they interact with physical objects like litter and bricks.
Since Muto, Blu has created several more films and in 2010 released his first DVD. The 105-minute compilation of Blu's work was an unprecedented release for a street artist. That is until Banksy's Exit Through the Gift Shop came out later that year. However, Blu's DVD (creatively titled) Blu still deserves recognition. Containing every video made during his decade-long career, as well as time lapses of his murals and other hand drawn animations, this collection is a different look into the art behind the "graffiti."  See more at: http://blublu.org/
Rap – Sam Schmieg
Many artists are known for their mysterious ways of liberating music; Prince, Mos Def and MF Doom are all examples of this. Through their sparse releases and infrequent concerts, their fans have begun to expect the unexpected. Blu is the freshest example of this—each album varies drastically in overall mood and repeated melodies. While his methods of releasing music may be questionable, it is no doubt that he provides rap with a breath of fresh air by reinventing his image on every release.
While he released EPs prior to his first studio album, Below the Heavens, none caught on quite as much as this cross genre record. While Illmatic by Nas is often considered the best hip-hop album of all time, many critics make comparisons between the two. Produced by a young producer named Exile, the record is truly a masterpiece; the soulful and often reflective melodies pair perfectly with Blu's insight on being a 22-year old at a crossroads. Songs like "Dancing in the Rain" and "Show Me the Good Life" tell hopeful stories about where Blu came from and how he plans to live up to the expectations placed upon him.
HerFavoriteColo(u)r is on the opposite end of the spectrum, in fact I wouldn't be surprised if some people didn't consider it hip-hop. While he does have a few verses, the bulk of the album is sound clips from movies and jazzy instrumentals that pair well if you are at a café. If that isn't relaxing enough, rain trickles in the background for nearly the entire LP. A highlight from the album is "Amnesia"; as a trumpet plays a sorrowful melody, Blu raps about being torn between making more commercial songs and truly revealing himself.
His most recent release, UCLA, is a collaboration with the producer Madlib. The beats vary from retro video game samples to more boom box-friendly tunes. Blu flows as good as ever, the only difference is the mic quality has decreased. This only reasserts his mysterious nature; while he can afford a nicer microphone, he opts for a grainier sound, possibly to add a retro effect. "Burgandy Whip" relies on a funky chorus sung by Jimetta Rose as Blu & fellow rapper Med exchange vivid images in their rhymes.
The thing that separates Blu from everybody else is tremendous versatility; with artists like Wiz Khalifa or Big Sean, you know what to expect, but Blu keeps his fans on their toes. He makes quality music and releases it for free, what more can you ask for. Next time you want to mix up your music library look no further than Blu.