2nd annual Tonka Turkey Trot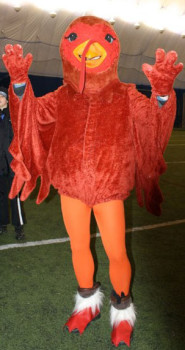 Hang on for a minute...we're trying to find some more stories you might like.
"Don't be a slug on Thanksgiving!  Be a turkey instead!"  The Tonka Turkey Trot boasts this saying on their website to promote the 2nd annual Turkey Trot.  Thanksgiving Day runs are becoming popular, as more people want to "earn the bird" on Thanksgiving morning.  Noticing this trend, the Minnetonka Track and Field and Cross Country Association decided to start a local Tonka Turkey Trot.
            Money raised is raised at the trot through race fees and donations. The money raised this year will go towards electronic timing gadgets for the programs supported by the association.
              In its second year, the Tonka Turkey Trot is looking to increase the number of participants.  This 5k run/walk/trot is for all ages.  It is a family friendly atmosphere and is run around parts of the MHS campus and the trails around the school. 
            The Tonka Turkey Trot is different from other turkey trots because it is a community event that benefits many Minnetonkaathletes.  Other turkey trots are put on by big companies and can have thousands of people running.  But if you are looking for a great local community run, the Tonka Turkey Trot is the place to be.  For more information and registration forms visit: www.tonkaturkeytrot.com