French Fries: Formal or Fast Food?
Hang on for a minute...we're trying to find some more stories you might like.
Now that fall is here, the craving for comfort food is slowly taking over the country, particularly when it comes to french fries. A delicacy that originated in Belgium, french fries have become a staple American comfort food.
While the majority of people would consider french fries to be fast food, many sit-down restaurants also serve them. Typically, french fry cravings are satisfied by fast food restaurants due to the quality of taste, ease of access, and the role that these easy restaurants have in society.
"Chick Fil A fries will always be my favorite. They actually taste like potatoes, have the right amount of salt, and they're cheap. In my opinion, fast food fries will always be better than sit-down restaurant fries, no matter what," said Ashley Gehrmann '22.
To get a further grasp of the type of fries in the Twin Cities, I researched the top places for french fries: both sit down restaurants and fast food spots.
Following both Gehmann's review and the chain's online reputation, Chick-fil-A was the first place I went to. Chick-fil-A is famous for their waffle fries, and I found that they lived up to the hype. They were crispy on the outside and soft on the inside, with the perfect amount of salt that makes you want to eat more. They were definitely an excellent classic french fry.
I then went to the sit-down restaurant Red Cow to try their popular Parmesan Truffle Fries. The presentation was rustic and adorable, but to be frank, that might have been the best thing about them. The truffle aioli was overbearing, and the prolific parmesan had a weird texture. The upgraded nature of the fry felt as though the restaurant was trying too hard.
Soon after, I ended up at Burger Jones to try both their Parmesan Waffle Fries and classic Russet French Fries. The better of the two was definitely the Parmesan Waffle Fries;, they were perfectly crispy and had a lightly delicious parmesan flavoring. I ate nearly all of the fries in the generous serving.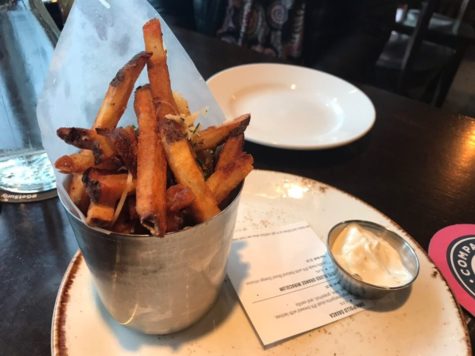 Finally, I went to McDonald's, the go-to of the fast food french fry world. They were as delicious as always, warm and crisp which is essential in a good fry.
After reviewing these four restaurants, I talked to Kyle Darling, the executive chef at The Copper Cow, a new restaurant opening in Minnetonka. I asked about the differences in fast food and sit-down restaurants french fries.
He explained the process of fry-making in a sit-down restaurant such as The Copper Cow. Due to the extended time that sit-down restaurants have, they can afford to make smaller batches of artisan fries.
"First, we have to cut the potatoes and then soak them in water for two days to get the starch out. After that time is up, we dump that water out and soak them again in cold water. Then, the fries are deep fried at 275 degrees and cooled so they don't oxidize and turn brown. Then, when someone orders fries, we fry them at 350 degrees to give them their crunchy, golden exterior and soft inside that makes them delicious," said chef Kyle Darling.
Although fast food and sit-down restaurants make their fries in different ways, the outcome of both can be delicious. If that french fry craving sneaks up on you, go where they serve the flavor and texture you want. While fast food places typically cater to basic tastes, sit-down locations will often serve more chef-inspired flavors. If you give these fancier french fries a try, they just might surprise you. But if basic french fries are what you're looking for, then don't feel ashamed to just stick to the classics.