We Tested Out Five Pens For AP and IB Testing So That You Don't Have To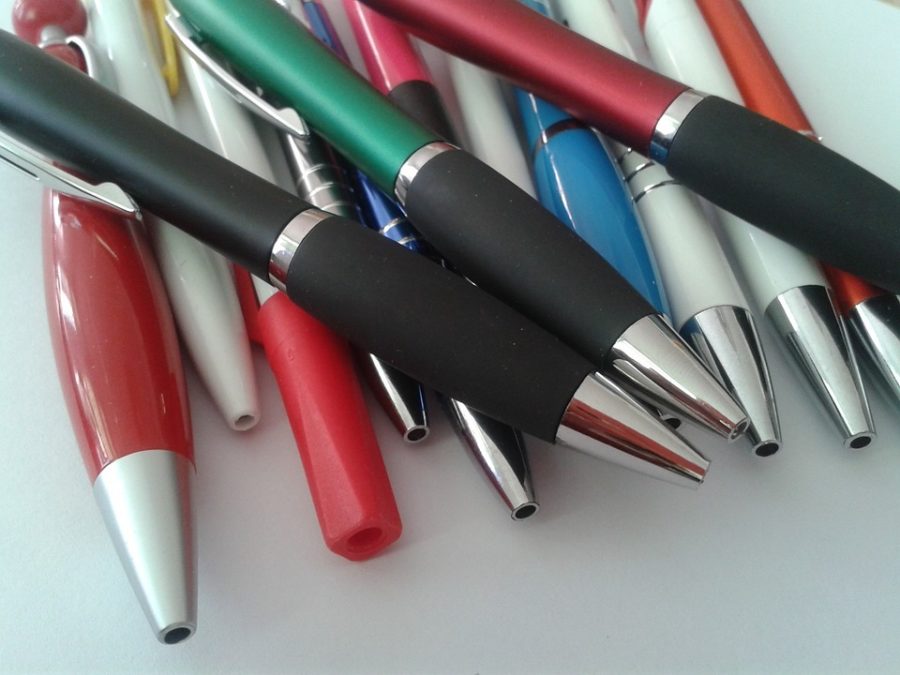 It's that time of year again for many students at Minnetonka High School. It's time to start pulling out that Barrons textbook, reviewing those notes you wrote ages ago and complete multiple mock tests in the weeks leading up to the day. It's testing season.
Like most students during this testing season, I'm terrified that I'm going to fail my exam. Along with this worry over the test, I also happen to have an irrational fear of my hand cramping while I am writing an FRQ or running out of ink and not having a backup pen.
In order to help conquer my fear, I decided to test five different pens to see which one is the best to bring to the test. I created a rating system out of five stars for the pen's comfort, ink, and price.
One thing to keep in mind for the following ratings is that the AP and IB exams only allow blue or black ink, and some of these pen packs have multiple colors, so some colors wouldn't be used during testing.
PaperMate InkJoy 300RT (1.0m):
The pack of eight multi-colored pens is $3.99 on Target.com. I remember these pens were super popular in elementary school, and, honestly, I can understand why. The ink is not super dark, but it's reliable. The price is affordable (if you plan to use all of the other colors, that is) and the pens are comfortable, with a soft grip.
Comfort-4.5/5
Ink- 4/5
Price- 4/5
Uniball Signo 207 (0.7mm):
This pack of 12 is $19.49 on Target.com. The ink of these pens is great. A little pressure is needed to write clearly with very dark ink, and it has the tendency to smudge. The pen is pretty comfortable and the grip has a interesting texture. However, there are probably similar pens that are cheaper.
Comfort-4/5
Ink-4.5/5
Price- 3/5
Zebra Z-Grip (1.0mm):
The pack of 24 is $7.67 at Walmart.com. This pen is very light and flows nicely. The ink is not pitch black but does not smear either. The worst part of the pen is the grip, as it has weird ridges that are rough on the skin.
Comfort-3/5
Ink- 3.5/5
Price-4.5/5
Bic Round Stic Xtra Life (1.0mm):
The pack of ten is $1.49 on Target.com. These pens are very affordable and are pretty good given the price. They are not super comfortable because there isn't any grip. The pen has fairly consistent ink, but needs a lot of pressure for the pen to produce a clear, dark ink.
Comfort-2/5
Ink- 3/5
Price- 5/5
Pilot G-207 (0.7mm):
The pack of six is $10.76 at Amazon.com. This one has the darkest and most visually appealing ink and very little pressure is needed to have consistent ink. However, it smudges a lot. The grip is very comfortable.
Comfort-5/5
Ink- 4/5
Price-2/5\
Results:
All of these pens will work pretty well for your exams, but my top choice, not taking in account the price, would be the Pilot G-207. With everything considered, this is how I would rank them:
PaperMate InkJoy

Pilot G-207

UniBall Signo 207

Zebra Z-Grip

Bic Round Stic Xtra Life
Besides these pens, there are other brands that students like.
Maxwell Maveus '22 said, "I prefer Muji pens because they are a good brand and have a good texture. They also have a lot of different colors, which is good for note taking."
Your pen choice is up to you. Whether you follow this article or some other advice you happen to hear, really, as long as you get some sort of pen, you'll be fine.