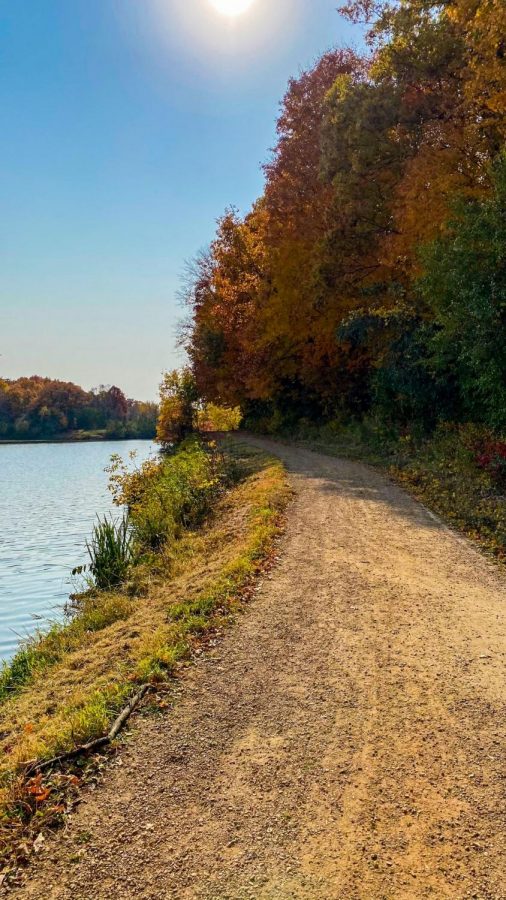 Sam Ackerson
           Do you ever need a quick way to clear your head after class? Or a good way to exercise without getting your heart pumping too hard? Do you enjoy watching the changing seasons outside? Well, your local trails may be the perfect solution for you. 
           There are many benefits to exploring the great outdoors. Exploring nature trails is perfect for a photo opportunity, training for a marathon, to unplug from technology, for a moment to do some self-reflection or ponder on a new Netflix TV show you just binge-watched. Trails are so versatile and can cater to almost every need. Hiking can be a solitary activity to think and to get to know yourself or a fun activity to do with your family. Trails can also be used for walking, biking, or jogging.
 "A walk is something that is for everyone and is a great exercise. It can be something really simple and a great way to connect with friends. It can be a great way to have some quiet time, and there is so much beautiful scenery to experience," said Margaret Dow, health teacher at Minnetonka High School. 
           Depending on where you are located, there could be great trails just around the corner or within biking distance. They are also a great place to just exist, without being expected to pay any money like a lot of public places. They are also great for social distancing, as there is a lot of space and one can keep six or more feet away from others easily a lot of the time. 
The possibility of seeing wild life, ranging from a deer to a turtle, makes for some interesting memories and stories for friends and family. There are also many interesting plants and possible creeks or streams to keep an eye out for as one explores the paths. It could be a fun solo scavenger hunt opportunity, or a great way to spend time with your family. 
  The many benefits of going outside include helping your mental and physical health. Sometimes taking a break is just what you need to help you understand a difficult math problem.
 "With being active, there are a lot of proven benefits of physical activity for your mental health," Dow said. "It's a great way to get fresh air." 
           Amy Renchin, '23, also spoke out about why trails can be so good for the public. 
"I think that, especially during COVID, it is good just to go outside and breathe in the fresh air and to take a break and think about life and stuff. We've been locked up in houses for months, so trails would be good to have a fresh mind," Renchin said. "We haven't been able to see people or do outdoor activity, so going out on trails […] would be good to get some fresh air and look at nature and look at the scenery, especially after staring at a screen all day." 
Renchin is right. At this time of year, nature is just truly beautiful. With the fall colors, the only other time of year that rivals the current moment is the springtime. 
           Unfortunately, winter is around the corner, meaning that it will be increasingly difficult to go outside without some equipment because of the dropping temperatures. The good news is that the trails are still physically there, just concealed under some snow. It is good to keep in mind that, as humans have evolved, so has their equipment, such as snow shoes, skis, ice skates, snowboards and more. 
           But time is of the essence, and with winter closing in soon, it is more and more crucial by the day to check out your local trails. Get outside of the house while you still can!