Teacher Spotlight: Minnetonka's Instagram Famous Profe Rayen Instroza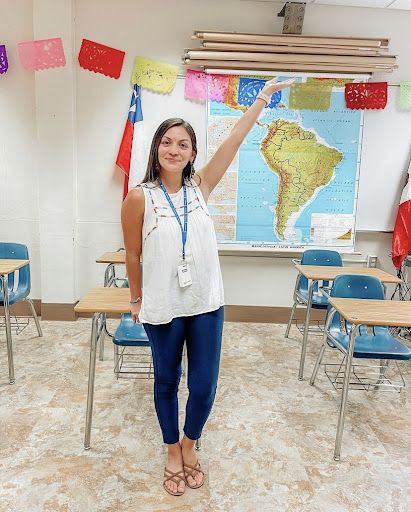 After nearly a full semester in person at MHS, it's almost impossible not to recognize the notable Spanish teacher, Rayen Inostroza. Inostroza, more commonly known as "Profe Rayen", brings kindness and laughter to the classroom, runs an educational Instagram account and has shared her personal experiences in Chile that teaches lessons to educators across the Minnetonka School District.
Profe Rayen's humor and light-hearted attitude helps her students enjoy participating and learning in class each day. Behind this passion, Profe Rayen's reason for being a teacher is about putting others first.
"I wanted to be involved in a community, and I wanted to help others. I feel the best way to do this is by being a teacher because you can change and impact people's lives," Inostroza said.
This is clear to her students as well.  
"Profe Rayen reminds us that our happiness is more important to her than completing a worksheet," says Will Steingas, '25. "She makes sure we are content when we arrive at class each day, one of the little things that makes Profe [Rayen] such a great teacher".
Outside of the classroom, Inostroza is known for her educational Instagram account, @la_profe_online, where she has almost 50,000 followers. She uses her Instagram account to connect with other Spanish-speaking educators, give advice and share teaching experiences through Instagram stories and posts. She decided to begin this educational social media profile because of her experiences teaching in America after spending most of her life in Chile.
"In Chile, our educational system is very different compared to America. It is extremely traditional. I wanted to show teachers in Chile that there are other ways to educate students while still having fun at the same time," she said. 
This mindset regarding how education can and should be enjoyable has had a huge impact on not only her followers, but her students as well. She is known for having fun while teaching, a practice that has benefitted her students both academically and personally. Although she has only lived in the U.S. for a relatively short period of time, she has noticed a difference between the staff at Minnetonka and educators she encountered in Chile.
"In Chile, when you are a teacher, administrators need to make sure they take a look at what you are going to teach in the classroom before the school day starts. Compared to school here in the United States, I feel they trust me as a professional. I can make my own decisions, and I know I have mentors and coaches to guide my educational career here at the high school," she said. 
This recognition of her independence as a teacher can be an important lesson to teachers at Minnetonka. Allowing students an appropriate amount of independence creates a more positive environment in the classroom where students can thrive. Keep up the good work, Profe.