A day in the life of a student: Spain vs US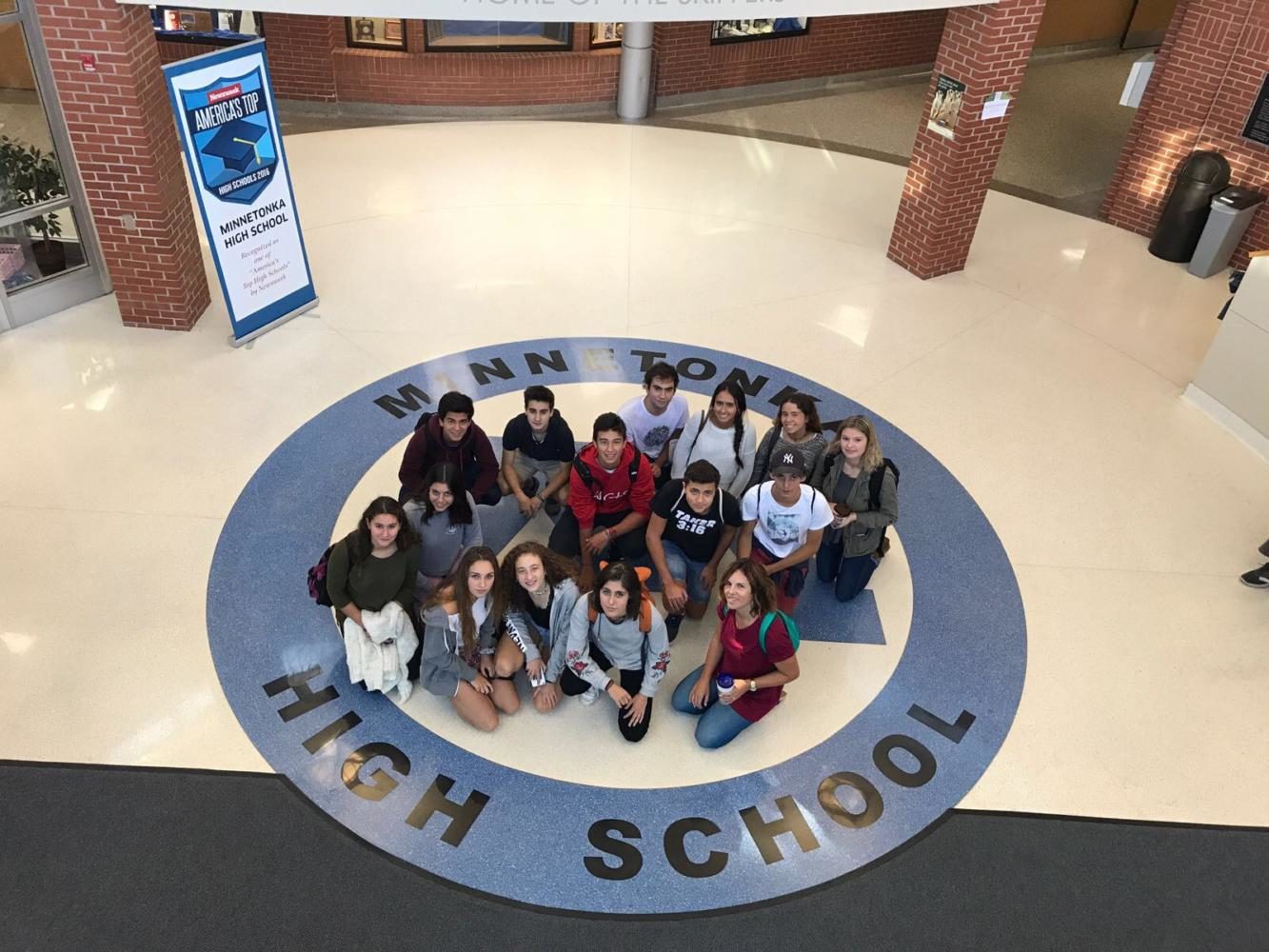 On Wednesday, September 6th, fourteen Spanish students and their two teachers arrived at the Minneapolis-St. Paul International Airport. The students attend Colegio San Ignacio school, located in Oviedo, a city in northern Spain. The school of San Ignacio is partnered with Minnetonka High School through the International Studies program which allows them to learn here for just over two weeks. Since their arrival, they have been attending classes with their host students and doing many activities in the Twin Cities such as going to Twins Games and shopping at the Mall of America.
During their stay, the students experienced the everyday activities and shadowed the schedules of their American hosts. They've been experiencing new things that seem completely ordinary to the average Minnetonka student, but in actuality are very different from their daily lives in Spain. When asked about the major differences between school in Spain and school in the United States, Celia Aragon replied, "The organization of your classes is different. In Spain, we do not have different levels for classes. You have IB, AP, Honors, and General. In Spain, we are all in one class split into three sections. We have Infantil from ages three to five, Primaria from ages five to twelve, Eso from ages twelve to sixteen and then Bachillerato from age sixteen to eighteen. Whereas you have Preschool, Elementary, Middle, and High School. Although in both places, we start university at 18"
Aragon noted that another difference was mealtimes. She said "We usually eat a snack around 3 and then don't eat dinner until 9:30-10 o'clock, even later on the weekends. In Spain, we are at school from 8:30 a.m. to 5p.m." They have a much longer school day with more breaks throughout including a 20 minute break in addition to lunch. While visiting our school, she experienced and enjoyed the shorter school day, the homecoming events and dress up days.
Profe Felte, the IB Spanish SL teacher at MHS, spent six and a half months in Sevilla, Spain during his junior year of college through a program based in Texas call ISA. Students in this program stayed in groups of two with a host family. He stayed with a widow whose husband had passed away five or six years earlier. His host mother wore black every day.
"I stayed with other Americans. We would hang out on the weekends and speak English. When you are away from home in a new place and still struggling to grasp the language, you seek comfort. I carried a quarter with me every day as a reminder of home."
When asked about the major differences between the countries, he noted that the amount of seafood was stuck out more than anything. "It is all fresh and easily available. Every day my host mother would go down to the market to buy food for the day's meals. They don't buy in bulk on one day for the week, they buy fresh produce everyday […] In terms of social differences, kids don't just go over to each others' houses and hang out. It is considered rude. We'd go out into the city."
He missed milk the most because in Spain, the milk is powdered. Profe Felte found it most difficult to readjust to life in the United States than to adjust to life in Spain. His favorite part of the trip was the realization of the completion of a life goal he had set during high school. When he was not able to go on his class trip in high school, he set out to one day go to Spain. To him, the accomplishment of that goal was incredible. In terms of daily life, people in both Spain and the US enjoy their routines.
Overall, there are many cultural differences such as diet and dialect but many similarities between two countries across the ocean from one another.