The Loft: A New Space, The Impact of Its Design on the Student Body
Hang on for a minute...we're trying to find some more stories you might like.
At the beginning of the 2017-18 school year, the administration began to look for additional space at the high school to expand upon creative collaboration and classrooms.
To maximize space already available within the high school, the 8,000 square foot locker rooms above the back gym quickly became the focal point of where this new space, now named The Loft, would be. The Loft is hoped to be used for both of those goals.
By spring of last year, further plans began to come about, and Mr. Erickson visited Harvard to see their innovation rooms for inspiration. The open design at Harvard allowed for extensive discussion among the students, something that is a top goal for Minnetonka.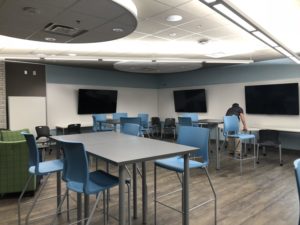 As for The Loft, the brick, flooring, and lighting were all chosen based on the industrial feel of a traditional loft. While the open space was the premise, students on the principal's advisory council had a direct impact on the design. They worked extensively with the architects to make sure that the final layout lived up to Minnetonka standards.  
"Students had a voice in what they like and what is comfortable," said Mr. Erickson.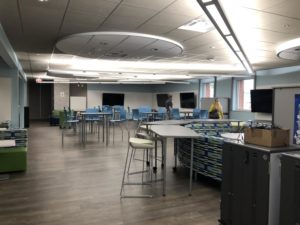 Because student voice is a core goal at the high school, this seemed to be a critical piece to address. The color choices and furniture types were discussed extensively when establishing how to create a constructive atmosphere. The desire for students to enjoy the spaces where they work has been a growing priority at the high school.
"Design can lead to productivity, hanging out [in the Loft] and in the port makes people want to work together," said Emily Hernandez, '19.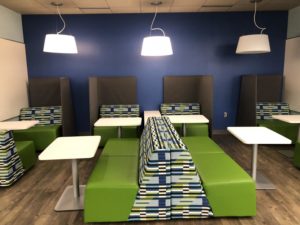 This belief that the design can promote productivity appears to be more and more common in the mainstream, with coffee shops and other spaces that encourage group work, it makes sense that Minnetonka would be adapting to this idea as well.
As this modern design begins to take over as a key feature in productivity, it remains to be seen whether this trend continues across all design considerations, in and outside of schools.