We're Grateful For Keith Nathe's Commitment & John Kasid's Versatility
MHS day shift custodian, Keith Nathe, has been working for Minnetonka Schools for thirteen years and has worked in nearly every district building. Most may see him down at the West Entrance or taking trips through the Commons. 
One of Nathe's favorite things to do is work overtime on Saturdays during basketball tournaments since he's a big sports fan. Therefore, he enjoys catching a few points and being around the liveliness of the games. Nathe's love of sports comes in part from his time as a wrestler when he was younger. Now, collegiate wrestling is his favorite sport to watch. Some of his other hobbies include working out and listening to blues music, specifically music from his favorite composer, Walter Trout.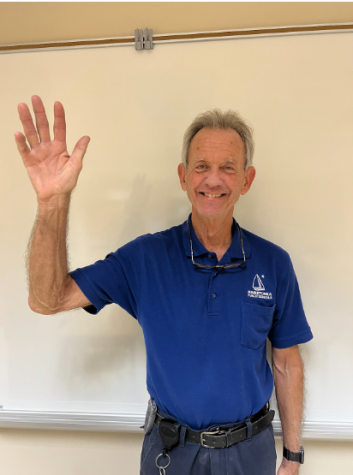 When asked if there's anything he would like the students to know, he said that he wished they'd put a little more effort into picking up after themselves."Just some basic things like pushing in chairs and if you drop stuff on the floor pick it up. Not for our sake, just for the sake of being responsible," Nathe said.
Students agree with his statement hence many feel it's unacceptable to leave behind messes, big or small. "The custodians already do so much," said Isabella Snow, '23. "They don't need more work to do." 
Nathe would also like students to know that he's here to help. "We're all here fighting the same fight."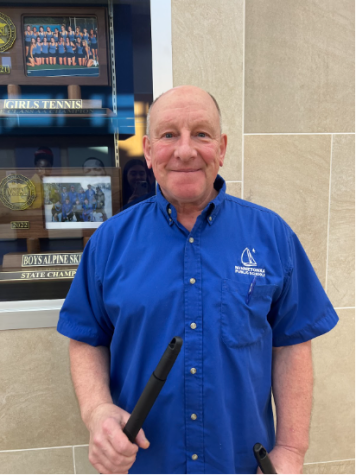 On the other hand, John Kasid loves working at the highschool. He's been involved in the district as a father and a coach and now serves his community as a custodian. After 5 years at Deephaven Elementary, he moved to the high school just over a year ago and enjoys the many activities it holds.
"This school never stops; it's like Las Vegas," Kasid said. "It's always got something going on." 
Between setting up for testing, keeping classrooms looking good and the deep summer clean, custodial work keeps Kasid on his toes year round. Kasid works the evening shift and is at the school from 2:30pm to 11:00pm, helping reset the school after a day of classes.
It's easy for students to forget about the work that's put into our school after the bell rings. "We come in every morning and the school is clean," said Emma VanMeter, '24. "We don't exactly realize how much work they've done." 
Aside from his normal routine, helping out at sporting events is one of Kasid's favorite parts of the job. Before joining the custodial crew, he spent over 10 years coaching youth football, baseball, basketball and fastpitch softball. During those times he was getting involved in his community and watching the benefits that Minnetonka schools brought his two kids. 
"This school offers a lot to everybody if they can seize it and run with it," said Kasid. His daughter's experience here helped her immensely in college and he's grateful for what the district has given him and his family.
Kasid is also grateful for the amazing support group he's found within Minnetonka's custodial community. 
"The custodial group here is wonderful. We get along great and we really help each other," he said.  
Kasid is 73 and plans to continue working for a few more years before retiring with his wife. "I like being around younger people," he said. "Older people are too slow!" He likes that his job keeps him busy and connected with younger generations. 
His sense of humor is great, but Kasid has an even better outlook on life. "I've had a good time since the day I've been born because I'm just happy!" he said.