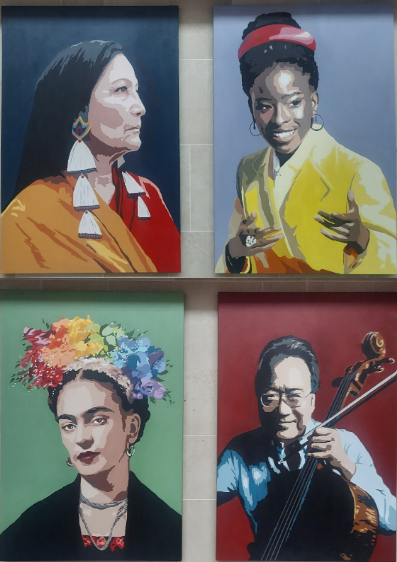 If you've ever walked through the Commons, you've probably noticed those giant posters near the Bursar's office of MLK Jr., Frida Kahlo, Amanda Gorman, among others. These large canvases are meant to serve as a celebration of diversity in our school, yet by walking through the Commons you will also notice that Minnetonka has an incredibly homogenous population. In fact, according to Niche.com, of our population of 3,502 Minnetonka students, 80.2% are white. While Minnetonka is a very homogenous set of students, the small pockets that try to celebrate diversity are able to do it well.
Mrs. Koenitzer, the leader of the canvas project, readily acknowledges this fact. When asked why she started the canvas project, she stated that, "It's no surprise that our school's demographics are… less diverse, so I thought it was important that every student sees themselves within the school… I wanted that representation to be very visible to them so that they can see the differences that we value."
This contrast between trying to celebrate diversity and not having very much of it could be construed as ironic by some or tasteless by the most pessimistic, but it is a step in the right direction. In fact, Minnetonka Schools and the School Board have made, "Excellence in wellbeing, connection and belonging," one of their three goals for the 2023-2024 school year. One of the action steps is to, "Deepen implementation of belonging efforts to ensure a welcoming, inclusive and safe school environment for all."
In talking to Mr. Erickson he shared that, "Our first goal as a school, is building strong relationships and, as a result, a strong community in every classroom. It is priority of teachers to work to ensure there is a safe, respectful and positive environment so that students feel a sense of belonging and inclusion in class." To support this work, "Just this past week, we had half our school participate in retreats/messages with Keith Hawkins around our goal a sense of belonging and inclusion. Earlier this fall, we had 9th and 10th grade hear the message of Chris Singleton about learning each other's story and that love is stronger than hate."
As mentioned, the National Art Society club has created and installed paintings of well-known, diverse figures that can be found in the Commons and classrooms. The paintings' subjects, according to Mrs. Koenitzer, "All have to be vetted to make sure that they are people we can look up to, and that have made really strong choices in their leadership qualities and their inclusive attitudes."
Story continues below advertisement
Following in the spirit of these posters are the leaders of the various Student Unions that celebrate their cultures across the school. Marianne Park, '24, a senior leader of Asian Student Union, said, "It's so important to create a community where we accept other cultures… a place to make other people feel welcome and celebrate the culture of every student".
Desi Student Union, which is helped run by Atharv Sukhani, '25, has similar values. When asked what sort of culture is fostered at DSU, he replied, "We want to create a positive environment for everyone to appreciate South Asian culture. We host a lot of activities where we can show off our culture, but everyone's welcome, you don't have to be South Asian to participate in a lot of it."
The leaders of these student unions work to better the understanding of their cultures in the grander scheme of their community. The leadership present makes the student unions a great way to learn more about cultures you may not be a part of. For instance, at the start of November, DSU hosted a day to try plenty of Indian street food. I have been attending DSU for a year, and can say that attending these sorts of activities has helped to bring me closer to a culture that I otherwise wouldn't have been able to know much about. This is one of the many great aspects of having student unions in the school, which is that people with no familiarity with the culture can come and learn more about it by just attending these activities.
When both leaders were asked about whether the school as a whole celebrated diversity on the same level that their student union does, they had varying responses. Marianne replied, "[She] would hope so," citing the various other student unions' beliefs of inclusivity, while Atharv deflected from his beliefs on the matter. Both of the responses seemed to hold back something, which shows that despite their efforts in creating a more diverse and accepting Minnetonka, the rest of the school's culture might not have as inclusive of a tenor as the student unions.
Clearly, despite the school being mostly homogenous, we have the ability to celebrate various cultures which the student unions and class projects continue to do. With the ongoing support from Mr. Erickson and the school board, teachers and students can continue to look forward to a greater sense of belonging and community.