Meet the New Principal's Interns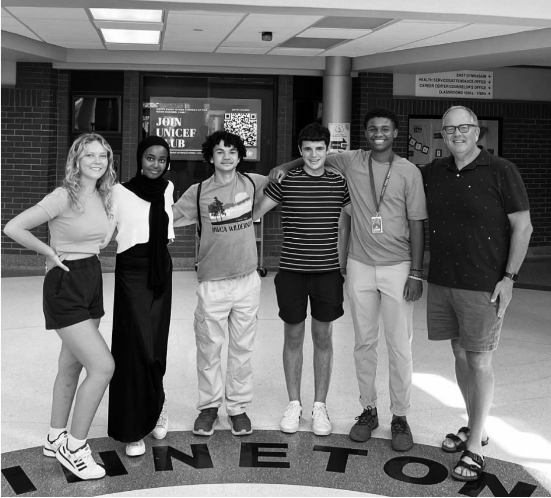 This year, Mr. Erickson introduced the five new Principal's Interns—Mia Banks, '23, Jonny Rice, '24, Nate Unger, '24, Manal Yusuf, '24, and Tyson Stewart, '25. This group of students helps with a variety of projects and assignments relating to communications, registration and social media. 
Banks shared, "I have learned how to photograph sports and performances and also how to use different softwares to edit the pictures. I also am starting to gain more administrative skills like communication and planning." She added, "I'm excited to be more on the social media track and to do more planning and layouts. I'm also excited to re-film the registration videos." 
Unger shared a personal highlight of his internship experience thus far. "One of my favorite parts of the internship experience is just seeing the excitement on students' faces when I feature them or their club. You can tell the students really want to be featured and that they really care about sharing their stories."
One of Unger's biggest goals as an intern is to "highlight as many students as [he] can and highlight what they have to show to our school." He continued, "The internship is really about telling the stories of the 3000+ students in our school, and I want to get as many of those voices as possible to the table."
"This group of five amazing leaders help capture life at MHS by attending events and taking pictures, providing ideas for Beyond 140s, providing me ideas to improve communication and working toward creating a positive school culture. It is a highlight of mine to work with them," Mr. Erickson remarked.
Mr. Erickson's principal interns have all had an enjoyable and fulfilling time helping with different administrative projects. Each agrees that creating a more positive environment for peers, coming up with new ideas to help the school and learning how to communicate and plan for different school events has been an extremely valuable experience.