Ranking the Five Most Classic Holiday Episodes of "The Office" and "Friends"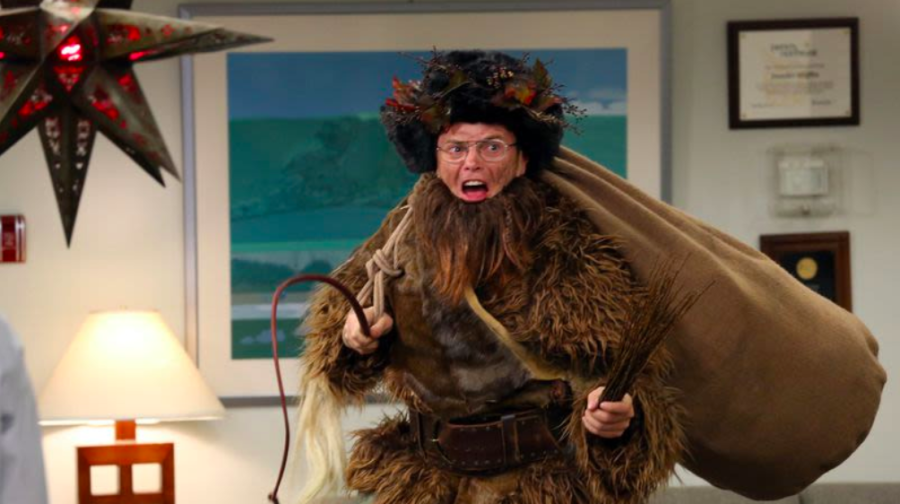 Kerrera Jackson, Staff Writer
December 21, 2018
Ranking the Top 5 Friends and The Office Holiday Episodes
Friends and The Office are indisputably some of the best and most well-known sitcoms of all time. Riddled with all kinds of hilarious and sweet moments, these shows are especially well known for their holiday episodes. While all of their holiday season episodes are great, below are the top five holiday episodes from each show, with number one being the undoubtedly funniest and most unmissable one of all.
Friends: "The One With Phoebe's Dad" (season 2)
The Friends episode begins with Phoebe thinking her father is the man in everyone's picture frames when they first buy them, but she comes to realize her grandmother had been lying to her for years. Phoebe sets out to meet her dad, and Chandler and Joey tag along in hopes they can go Christmas shopping. However, when she arrives, she can't get out of the car, as she is too scared. This is to Chandler and Joey's dismay because they are now unable to go Christmas shopping. Meanwhile, Monica and Rachel throw a Christmas Party; however, tensions rise as the apartment gets increasingly warmer due to Ross breaking the radiator. This episode is funny and heartwarming all at once.
The Office: "Dwight Christmas" (season 9)
"My favorite Office Christmas episode is the one in season 9. Dwight is hilarious in this episode when they finally do his chaotic German Christmas. Jim is my favorite, and I loved seeing him so excited to see Dwight act crazily when he dressed up as the "Traditional German Santa" Belsnickel without ever being reprimanded. It was also really sweet when Dwight was so excited to see Jim as he came back to see him and Pam," said Jordan Hollings, '22.
The Office: "Christmas Party"(season 2)
"The best Office holiday episode is the very first one. The characters do an office-wide secret Santa exchange, but Michael goes way overboard and buys Ryan an iPod, but he gets homemade oven mitts from Phyllis instead. He then insists they all do an exchange game that is hilarious. My favorite part of the episode is when Jim gives Pam the teapot filled with all of their inside jokes, and a letter professing his love. However, before he gives it to her, he takes the letter out. But just seeing Pam's face when she gets it and Jim's when he's watching her open it made me believe in love," said Rylee Hopia, '22.
Friends: "The One With The Routine"(season 6)
The season 6 episode of Friends focuses on Ross and Monica who have been given the chance to appear as "party-goers" on their favorite New Year's Eve television program.  They continuously try to prove that they are great dancers to get airtime, but are terrible at dancing. Back at the apartment, Phoebe and Rachel coerce Chandler into helping them look for the presents that Monica got them. Joey finally gets together with Janine.  
Friends: "The One With the Inappropriate Sister" (season 5)  
While a very weird episode, Friends pulls it off miraculously. Rachel is in a predicament throughout the episode as she is dating a man who acts like he is dating his sister. In the rest of the episode, we get a glimpse of "Street Phoebe" as she is forced to get rough with people when she is working as a donation collector for the Salvation Army.
The Office: "Benihana Christmas" (season 3)
This Christmas episode of The Office hits so many hilarious low points for Michael, starting out with his girlfriend, Carol, breaking up with him because he sent out Christmas cards with himself photoshopped into a picture of Carol and her children with his face in place of her ex-husband's. This causes Michael to spiral into an existential, melancholy state, so Andy, Dwight, and Jim (unwillingly) take him to Benihana's. Michael ends up taking two waitresses back to the office Christmas party but cannot keep straight which one is his new "girlfriend." Karen and Pam hosted a Christmas party conflicting with the party hosted by Angela, each room pulling out all the stops to lure more guests.
Friends: "The One With The Creepy Christmas Card" (season 8)
While Ross has always been known for being the most awkward character, this episode really shines through for him. When his girlfriend, Mona, asks him to send to send out a Christmas card with him, he has no idea what to say. In a subplot of the episode, Chandler lied to his boss that he broke up with Monica so she could get out of going to dinner with him. However, the boss takes this as a chance to show Chandler all that a single guy can do in New York City, causing Chandler to greatly regret lying about the breakup.
The Office: "Moroccan Christmas" (season 5)
"Hands down, Moroccan Christmas is the best. It was so funny!  Meredith lights her hair on fire and then the whole office holds an intervention for her alcoholism at the Christmas Party. It's also the episode with Jim's iconic wrapping paper prank on Dwight," said Julia Terrell, '22.
 The Office: "Secret Santa" (season 6)
In the best Christmas The Office episode, Michael is upset that Phyllis gets to be Santa at the Christmas party. He competes with Phyllis to prove he is the better Santa, then turns to much worse methods of heckling the whole office while dressed as Jesus. The hilarious actions by Michael Scott that ensue for no real reason are a perfect example of The Office hilarity.  
Friends: "The One With the Holiday Armadillo" (season 7)
"Possibly one of the most iconic Friends episodes, 'The One With the Holiday Armadillo' showcases Ross teaching his son about Hanukkah while dressed up like an armadillo. Then Chandler appears dressed as Santa and takes all the attention away from Ross. Ross makes a fool out of himself throughout the episode and it is definitely the funniest Christmas episode of all time," stated Ravelle Rute, '22.