Minneapolis Murals and Their Significance to the Cities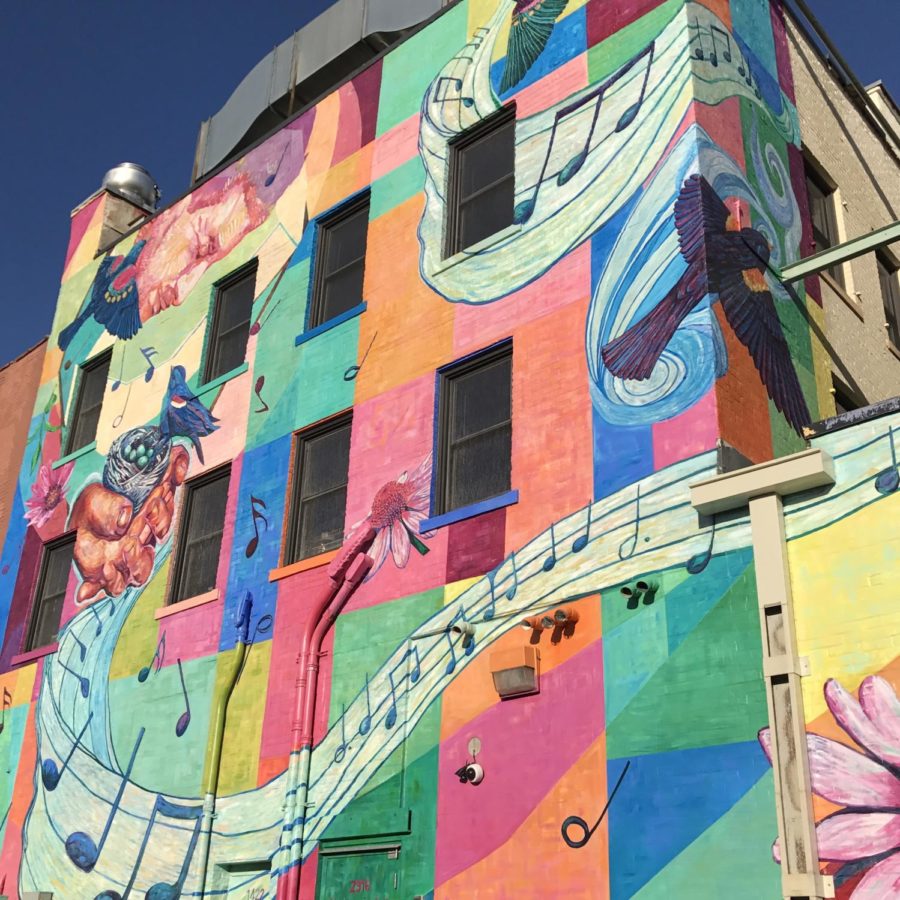 Jamie Hessian, Deputy Editor, Arts and Entertainment
April 26, 2019
Throughout Minneapolis, dozens of murals are scattered about, on buildings and hidden in alleys. You've likely passed them many times before, but you may not have stopped to appreciate them. The murals serve many purposes. Some honor famous Minnesotans, display a variety of cultures prevalent in the neighborhood, or others simply bring color and vitality to an otherwise dull building.
One of the most iconic murals is of Bob Dylan, Minnesota born folk/rock singer. The mural features a kaleidoscope of colors and depicts his growth over time, by displaying three portraits of him throughout his life. The mural is titled "The Times They Are A-Changin'" after one of his most famous songs. The mural was completed in 2015 by Brazilian street artist, Eduardo Kobra. Kobra has painted kaleidoscope murals of iconic individuals all around the world. His mural of Bob Dylan, located on Hennepin Avenue, brightens up the street and is sure to catch any  eye that drives by.
Allison Peck '20 shared that her favorite mural was the mural of Bob Dylan. "I like the prisms and the different changes in color," Peck explained. She believes murals are important because "they make Minneapolis seem like less of an industrial city and bring life to it."
Another, much simpler mural with only two colors is located in Downtown Minneapolis on 10th St. and Marquette Avenue. It is commonly called the "Music Note Wall", as it resembles a piece of sheet music reaching five stories tall. The actual music notes depict a section of a piano piece by French composer, Maurice Ravel. The mural was painted in the 70s and quickly gained popularity. Prince even had his photo taken in front of it, and it still remains a prime photo opportunity, especially for those active on social media.
Another especially vibrant mural, located on East Lake Street, depicts a village scene in Mexico. The mural spreads across the side of the Gorditas El Gordo Mexican restaurant. It depicts many people dancing, eating, and talking with one another. The mural is full of bright colors and illustrates this busy village which is full of interesting scenes.
"Murals show how diverse the city is and how many different people live here," Maya Ahmed '21 explained, when asked about the significance of theses types of murals.
Another vibrant mural, known as the flower wall, is located on Lake street in uptown. It depicts a woman surrounded by several flowers, birds, and music notes with a colorful background. This wall provides an excellent photo opportunity, and you have likely seen a picture of it on Instagram.
Everyone, especially those from the twin cities, know that one of Minnesota's most iconic artists is Prince. Located on Hennepin Avenue is a mural depicting his face in all purple. Above his face is a dove, and below is his year of birth and death. The mural was painted by the street artist Rock "Cyfi" Martinez for the purpose of paying a tribute to Prince. Murals such as this one depict what makes Minneapolis stand out.
Minneapolis is filled with vibrant, unique murals on nearly every street; this list just names a few. Murals showcase Minneapolis' music, artists, culture and values. They brighten neighborhoods, create iconic landmarks and provide photo opportunities for all.