Freshmen Perspective on Minnetonka's First Mates Program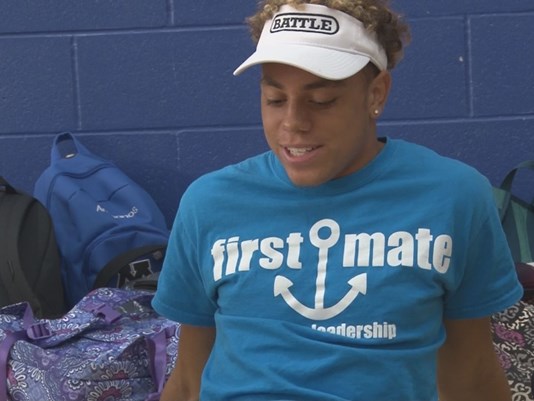 It's hard to believe that just a month ago, we freshmen tackled our first finals week and successfully began our second semester. Flashback to our first week of high school when we ninth-graders huddled in the halls with our schedules in hand, scrambled to find our friends during lunch, and ultimately, tried to understand how high school works. Just as we got used to our old schedules, they changed again. We now understand how things work at Minnetonka High School. This insight is largely thanks to the dedicated seniors and advisers in Minnetonka's First Mates program.
The First Mate program consists of just over 100 seniors and the entire freshmen class. While you may be wondering how in the world one can organize a fun event for that many teenagers during a short class pull-out, First Mates adviser and MHS Student Life coordinator Amy Livorsi does just this. Mrs. Livorsi is dedicated to ensuring every freshman has a smooth and enjoyable transition into a high school, and she emphasizes the importance of academic success.
Senior First Mates organize different activities and events throughout the year to help freshmen with their transition into high school.
Some of the most memorable First Mate events were the Big Day over the summer and meetings to give us tips and advice about finals week. Of those interviewed by Breezes, many freshmen felt their sessions with First Mates to be helpful. However, we have identified a few areas that could be improved upon.
Breezes asked a handful of freshmen what their thoughts were about the effectiveness of First Mates and their corresponding experiences with the program. Freshman Mary McDonald felt like no additional contact with her First Mates was made "outside of the scheduled events" and also said, "I feel that the First Mates are unnecessary outside the tour of the school and the introduction to finals."
In fact, a shared sentiment among the freshman class is that many of the games and icebreakers that we play with our First mates are unnecessary. Chelsea Lai '20 reflected on her first introduction to the First Mate leaders, remarking, "The whole mass of seniors forming a walkway you must follow in the freshmen orientation was a bit unexpected and daunting."
However, Freshman Hannah Monhardt feels that it was "a privilege for freshmen to be with supportive upperclassmen who have already gone through the first year of high school."
Many students seemed to find the introduction into finals week very useful and felt that it provided a "comfortable environment […] to have questions answered" outside of the regular classroom paradigm. Additionally, the tour of the high school seemed to be widely appreciated, seeing as our school is notably massive and understandably confusing.
In conclusion, the First Mates program is a good way to help freshmen with their transition into high school. Some improvements could be made such as opening up communication outside of First Mate-sanctioned events and welcoming freshmen in with less thunderous clapping and cheering. In the end, though, Minnetonka is lucky to have a helpful transitional program like First Mates.