Our Environmental Advocates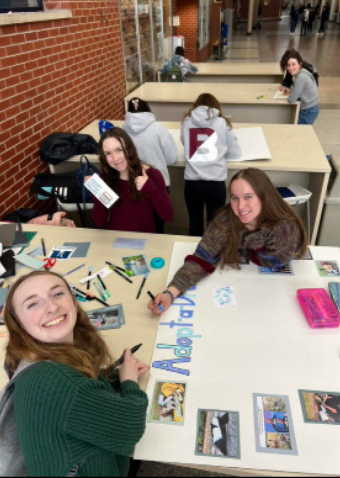 The Natural Resources Club is a group at Minnetonka High School that meets with service and sustainability in mind. Gathering every other Tuesday morning at the Momentum building, the club discusses ways to improve the city of Minnetonka's environmental impact. 
"Our goal is essentially to create an atmosphere in which students who share a passion for the environment and sustainability can learn more about the Minnetonka parks and more about sustainability in general," said Emma Karbowski, '23, student leader of Natural Resources Club. Along with Sarah Johnsen, Karbowski is a youth steward of the Minnetonka Natural Resources Division. 
The club is a part of many environmental projects. "We do a lot of events with the city of Minnetonka," explained Karbowski. They're current focus is 'Treeplenish,' a project in which the club seeks to offset Minnetonka's annual seed surplus. In order to do this, the club needs to plant 2,450 saplings and has been working with Minnetonka on planting saplings in restoration areas throughout the city. 
Christine Petersen, advisor of Natural Resources Club, works as the city of Minnetonka's Natural Resources Engagement Coordinator. "My role is to help residents [of Minnetonka] learn about the benefits and threats to our shared natural resources, and empower them to take action."
"In many ways I see myself as a hub," said Petersen, "connecting the club with opportunities and experts within and beyond the city." She explained how the group has pursued many of Minnetonka Natural Resources division's priorities: including a tree sale, buckthorn removal in parks, and a social media campaign about reducing road salt. Looking forward, the club seeks to continue buckthorn removal efforts, as well as provide education for elementary school students about reducing pet waste. 
Both Karbowski and Petersen have ideas on how MHS and the greater Minnetonka community can be more sustainable. "Awareness is such a big thing, and just being educated in general is super important," Karbowski said. She added that spreading awareness to others is a big step in achieving greater sustainability. Small things help as well. For example, the club's "Adopt-a-Drain" project to improve water quality. 
Petersen explained the difference between sustainability and resilience. "Resilience is the ability of individuals, societies and systems, natural or human, to prepare for, recover from and thrive after damaging events." Petersen said that resilience is the bigger goal of the Natural Resources division, and with resilience in mind, she highlighted protecting habitats as being important. One way to do this is to replace lawns with native trees, shrubs, wildflowers and grasses, which can bring beauty and diversity to yards and is beneficial for the environment. Though some actions may seem small, these actions are important steps in the direction that the Minnetonka Natural Resources Club wishes to go.