Trump, Russia, and the CIA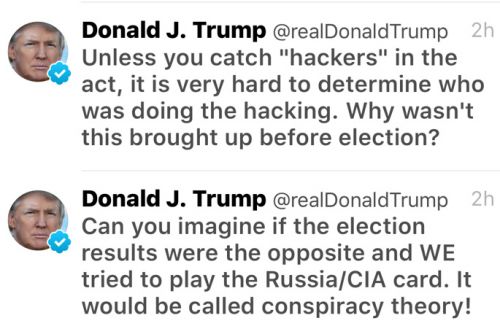 A recent CIA investigation has reached the conclusion that Russia successfully hacked both the RNC and DNC's campaign servers, but only chose to release incriminatory evidence about the DNC.
A U.S. official has confirmed to NPR that the CIA has "come to the conclusion that Russia was trying to tip the election to Trump."
President Obama has ordered an investigation into "malicious cyber activity" to determine the extent of foreign involvement in the American electoral process, going all the way back to 2008. Donald Trump has been quick to dismiss the investigation, stating that he "[doesn't] believe they interfered."
Trump's transition team statement focused on discrediting the validity of the CIA's conclusions, and shifted the blame onto Democrats.
Trump announced, "The election ended a long time ago in one of the biggest Electoral College victories in history. It's now time to move on and 'Make America Great Again.'" In a subsequent appearance on Fox News Sunday, Trump said, "I think the Democrats are putting it out because they suffered one of the greatest defeats in the history of politics in this country."
For the record, Trump's electoral vote lead over Clinton ranks 46th out of 58 elections, far from the "massive landslide victory" he claimed. In addition, his 2.8 million vote deficit to Clinton is the greatest ever in the history of the United States.
If these investigations determine a large degree of international involvement in American elections, it could cast doubt in the minds of the electorate as to the validity of past elections and that of 2016, creating more disdain for the political system in an already hostile landscape.
In addition, Trump's apparent dismissal of the CIA before taking office sets a startling precedent for future interactions between the Trump team and U.S. intelligence agencies.
Trump has already said that he will not take the daily intelligence briefings that past presidents have received. He addedthat Mike Pence would instead be attending said briefings.
Trump's justification for this decision was, "You know, I'm, like, a smart person. […] I don't have to be told the same thing in the same words every single day for the next eight years."
Trump's future administration is already setting a new precedent for presidential policy moving forward, one that involves dismissing the conclusions of the very agencies that maintain American national security, fight terrorism, and counter cyberattacks. It should be noted the extreme divergence from convention as past conservative politicians, notably President Reagan, have maintained and upheld a standard of non-interference in American elections.
Perhaps a post-Cold War world has a more relaxed view towards Russian interference in foreign politics, or perhaps it is Trump's own desire to win outweighing his concern for the threat this poses to American politics. Either way, it's going to be a strange four years.