First Minnetonka High School Coffeehouse of Year a Resounding Success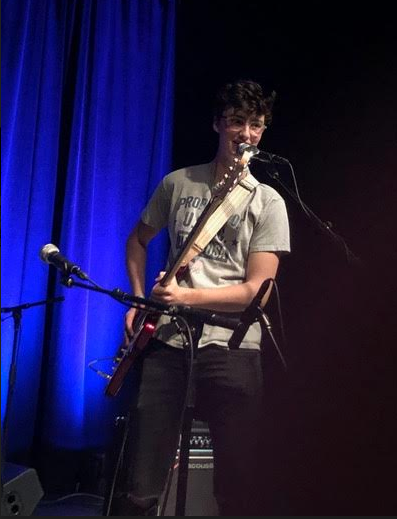 Hang on for a minute...we're trying to find some more stories you might like.
Friday, December 7th, was the first Coffeehouse of the school year, and it's safe to say it was a success. Students displayed all kinds of musical talent from singing to saxophone and accordion playing. Those who attended were engaged, enthusiastic, and inclined to agree it was a great night. The students running the event were quick on their feet, keeping the everything running smoothly. It is evident that a lot of hard work went into that night. So how do they plan a successful coffeehouse?
Coffeehouse is a club that plans musical showcase events in Minnetonka. Everyone is invited to attend, and students interested in performing are encouraged to audition.
"It's a really good inclusive event that we do," said Julia Patterson, '19, a student leader of Coffeehouse.
Coffeehouse differs from other clubs because it is mainly students running its events. The two advisers for coffeehouse help reserve the black box and get equipment, but the rest is the students' responsibility. Student leaders take a lot of initiative in this club. Strong student leadership makes coffeehouse an original club with a creative outcome.
"It's a lot cooler if kids are in charge versus a bunch of staff," said Caitlin McWhirter, one of the the two advisers of Coffeehouse.
Most of the funds come from the student body. Bands and performers need to sell a certain amount of tickets in order to raise money and make this event possible. They also sell tickets at the door, often easily raising the amount of money that they need. Coffeehouse leaders have been satisfied with the size of the Minnetonka student crowds, who show up to encourage the coffeehouse performers and have a good time.
"[The students in the audience] have a really positive attitude, and it really helps the people who are stage," said Patterson.
Students leaders put a lot of time and work into their role in Coffeehouse. They start planning way back in the summer. Because communication is key for this event to come together, they try to directly contact interested students. Auditions are held a month before the show, and the student leaders run the auditioning process, too. They then spread the word by putting up posters and going on student announcements.
Leaders are passionate about music and enjoy working with other students who share their enthusiasm. It is a great opportunity for leaders to connect with music lovers and witness some amazing talent, while sharing their thoughts and opinions in an accepting group.
The students involved in the planning of Coffeehouse have a lot to be proud of, as well as the amazingly talented performers. We hope to see them all again at the next Coffeehouse in February.