Muppets Review
While movie critics are already considering The Descendants or Moneyball for favorites at next year's Academy Awards, there seems to be one movie in particular that has been snubbed of its well-deserved critical acclaim: The Muppets. Many will overlook this as just another kids' movie churned out by Disney, when in reality The Muppets breaks the mold of what a good family movie should be. Jason Segel was vital to the Muppets' newfound resurgence by writing, producing and starring as Gary in the newest addition to the long list of Muppet movies. Gary leads his girlfriend Mary (Amy Adams) and his puppet brother Walter to Los Angeles, where they get tangled in a plan to bring back the Muppets for a one-night television special, in order to save their museum grounds from an oil tycoon.
Although the broken-down plot is not too dissimilar from many family movies (the team bands together to trump a bad-guy), The Muppets' shines through with the characters' intricate back-stories. From Gonzo's new job as a plumbing entrepreneur to Animal's recent stint in anger management, the characters have all grown slightly since the last movie, while still keeping the personalities that their fans have grown to love. But the best part of The Muppets are the musical numbers; now I'm not one to be first in line at the newest High School Musical movie, but I can agree to a good song and dance if it fits in the story line. The Muppets is a perfect example of how to incorporate music into a movie. The songs are extremely witty and help show the internal conflicts of the characters. In the movie's arguably best song, "Man or Muppet," Gary has to choose between helping the Muppets and going on a date with Mary.
Essentially what it boils down to is that the Muppets have a sort of eccentricity that many other kids' movies lack. I mean come on; they have puppetry on their side. So, for the holiday season, go take a younger cousin or sibling to The Muppets. And while you may pretend you're going for them, you will be grinning ear-to-ear on the inside.
About the Writer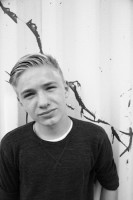 Sam Schmieg, A&E
This is my first full year on the Breezes staff. In my free time I enjoy slanging ribs at Famous Dave's, having never-ending marathons of Gossip Girl,...