Soundset 2012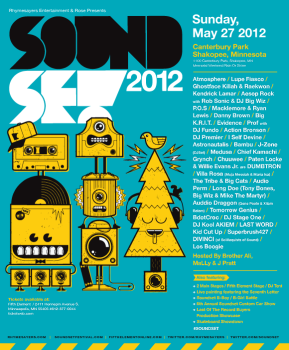 Ahh, summer months filled with festivals: there's really nothing better. While Lollapalooza, Coachella, and Bonnaroo garner the most attention, over the last 5 years Soundset, a festival put on by local record label Rhymesayers Entertainment, has made giant waves in the record industry. What started as a day to showcase the talents of the label has turned into an event that brings in some of the largest hip-hop acts in the world.
This year, on May 27th, Soundset
rings in its
five year anniversary. To
celebrate, they wanted
to do it bigger than they
ever have: book larger
acts, attract
more fans,
and provide
an even better experience. This year's lineup is the most diverse yet, filled with everything from classic hip-hop acts to new age rappers, Soundset 2012 is going to prove to a lot of people that independent labels and festivals are not to be overlooked. While I could speak on all of the artists, I don't want to force you to read a novel, so instead, I will speak on the artists that I am most anxious to see.
Beyond Atmosphere, the largest act this year is Lupe Fiasco. The artist behind "Kick, Push" and "The Show Goes On" has decided to grace Canterbury Park with his attendance. I am personally pumped for his performance because his latest album, Lasers, struck a happy medium between electronically driven pump up beats and socially conscious lyrics. Also, his debut album Food & Liquor remains one of my favorite albums; its lyrical contents explain the struggles of a Chicago teen attempting to make it out of his surroundings.
Action Bronson's persona cannot easily be summed up in a few words. For starters, his previous profession as a "fire- flame" chef seems to permeate nearly all of his songs which contain lyrics about his often extensive backyard barbeques and the food which is served. Also, it would be tough to listen to him without making a comparison to fellow New Yorker and Soundset performer Ghostface Killah; their voices are nearly identical, not overwhelmingly nasally, but they both should blow their respective noses. If you want to brush up on some fresh "Bronsolinni," be sure to check out his recently dropped Blue Chips. It is filled with boombox style beats and laid back raps being spit by one of the best bearded wonders in rap.
One of the most "buzzing" acts in the country, Kendrick Lamar, will also be rocking the stage. His recently released album titled Section.80 brought him out of the depths of anonymity through its lyrical analysis of what society deems popular. He also has a very unique style of rapping; his hybrid of melodic rapping provides the listener with a fascinated medium between singing and powerful lyrics. Another gem in his discography is Overly Dedicated; this mix tape is comprised of an examination of the stereotypes imposed upon African Americans, and how it is up to their culture to change others' thoughts. I am anxiously waiting to see his passion while delivering these deep lyrics.
The last artist that I want to spotlight is Big K.R.I.T. Yes, I realize his name is weird, even he realizes it is weird, but beyond that, he is continuously putting out music that receives great reviews. His mix tape Re- turn of 4eva shows his preparation for the "big leagues;" he realizes that he is on the cusp of success and he tries to remain himself. The Southern U.S. used to own the Billboard charts; he is trying to return it to its rightful place through narratives of the life of a southerner. His soulful, jazzy beats will easily captivate a crowd of 20,000 fans.
Before May 27th rolls around, be sure to pick up your 41-dollar ticket from Fifth Element in Uptown.
About the Writer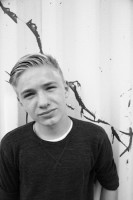 Sam Schmieg, A&E
This is my first full year on the Breezes staff. In my free time I enjoy slanging ribs at Famous Dave's, having never-ending marathons of Gossip Girl,...