Art Museums in the Twin Cities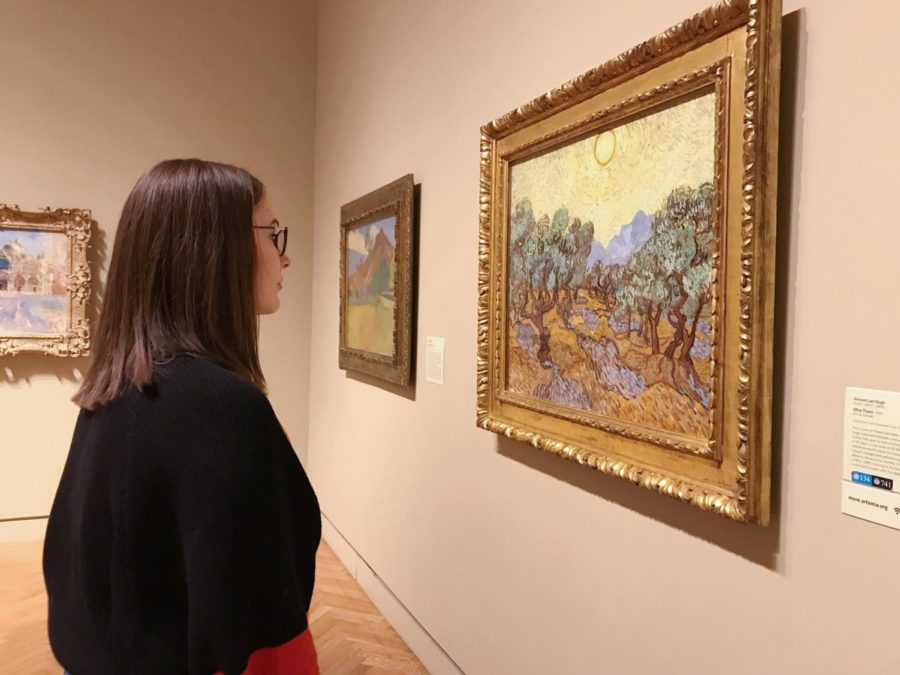 The Twin Cities are rich in art museums of all kinds with wide varieties of work. While many people wouldn't immediately think to spend their day admiring art in a museum, it is much more of a rewarding experience than they expect. Art museums bring other cultures to life and offer different historical perspectives that expand one's horizons. Visiting an art museum can be as simple as enjoying the colors of a painting to inspiring creativity and learning about new artists and styles. As residents of the Twin Cities, we are lucky to have such a multitude of inspiration in our own backyard.
Minneapolis Institute of Art
This museum, located in Minneapolis, is home to several famous works of art. The MIA contains a wide range of art that spans over centuries, and originates in nearly all of the continents.
Emma Gilbert, '23, said "I like the Minneapolis Institute of Art because of its diversity. I think art museums are important because they show a piece of our history, and it keeps other cultures alive."
  Each room of the museum is categorized by the era and style of the work. Some of history's most well known artists have work showcased in the MIA, including Vincent Van Gogh, Claude Monet, Rembrant, and many more. Additionally, the MIA is not restricted to paintings. It also contains period rooms, which are recreations of rooms from different eras and countries. These rooms show visitors a glimpse of what life was like centuries ago. 
Samuel Breyer, '22, explained that "getting to learn about the history surrounding art," and seeing such "cultural diversity" greatly improved his experience.
Visiting the MIA is the perfect place for anyone looking for creative inspiration or a fun outing which is completely free.
Walker Art Center/Minneapolis Sculpture Garden
Founded in 1940, the Walker Art Center offers a more modern selection of art, with a large variety of mediums and styles. Some of the most common mediums include painting, sculpture, films, and performances. The Sculpture Garden is located outside of the Walker, and it has free admission. It contains iconic sculptures, such as the Spoonbridge & Cherry, which anyone from the Twin Cities could recognize. It includes more interactive pieces such as The Arikdea, a giant swing sculpture, perfect for children to play on. 
"I like the sculpture garden because it is outside and open for anyone to walk around" said Ivy Schultz, '23. Schultz added "Art is important because there are a lot of cool pieces out there for people to look at and enjoy." 
The Walker and the Minneapolis Sculpture Garden create an interesting and inviting environment for families to explore a variety of art and enjoy the outdoors.
Museum of Russian Art
The Museum of Russian Art, is located in South Minneapolis, houses pieces originating in Russia with the purpose of bringing art from across the world to life in our own community. The paintings in this museum are there to educate the public about Russian culture and history. The museum also hosts lectures, seminars, and concerts which work toward the museum's goal of bringing Russian culture to Minneapolis. This is beneficial to our community because it allows people to learn more about an unfamiliar culture and expand their horizons.
Weisman Art Museum
The Weisman Art Museum is located on the University of Minnesota campus, along the Mississippi River. The architecture of the museum itself is eye catching with its abstract metal structures which contribute to the uniqueness of the museum. There is a lot of variety in the types and origins of art, including American modernism, Korean furniture, ceramics and Mimbres pottery. 
Minnesota Museum of American Art
The Minnesota Museum of American Art is St. Paul's only art museum. It also has free admission, so everyone can enjoy its art. They pride themselves on the diversity of their artists. Additionally, the museum's focus is on depicting different perspectives of American society. There is also an art center that offers art classes and a space for anyone to create art in order to promote creativity. Since its reopening in 2018, it has small galleries that open onto the street for those who are passing by to enjoy.
The Twin Cities has so much to offer in the field of art and promoting creative expression. In the Twin Cities alone you can find art that is centuries old, modern art, paintings, pottery, furniture, and more. Art museums are essential to a thriving city because they bring new historical, creative, and cultural perspectives that might otherwise be lost. Spending an afternoon exploring art at your local museum can bring you to learn about a new culture find a new source of inspiration.