College mailstrom – Enduring the flood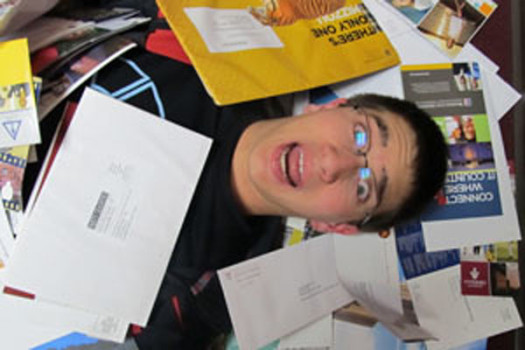 Courtney Bade, Staff Writer
November 14, 2011
The ACT, the SAT, the PLAN, the PSAT. They all have it: that little box you check to request information from various universities. At the time, it seems like a good idea. Why wouldn't prospective college students want as much information as possible? But by the time senior year comes around, checking that box will seem like a big mistake.
Every day I receive at least three college ads in the mail daily, and at least five new emails appear in my inbox every day from the same universities, over and over, and I know I am not the only one. It is like these schools think that if they send us enough emails, we will apply just to get them off of our backs (and who knows, maybe we will, because they are really that annoying).
Colleges are increasingly pushing the amount of advertising to prospective students. According to The Chronicle of Higher Education, many private universities spend $2,000 or more on recruiting one student. This is excessive. However, admissions departments view these pamphlets, emails, and websites as the first impression of a school for many students, and the school needs to ensure it's a good one. So, for the colleges, advertising is an important factor for recruitment that needs to be done well and frequently, but is it really worth it?
Regardless, from the student point of view, the tidal wave of college advertisements is extremely overbearing. The mindset is: if you want me to go to your school, then stop pestering me with all this junk, it is just going straight to the recycling.  Couldn't these universities to spend money on providing financial aid or improving academic programs instead of fancy emails and cards that are immediately deleted or thrown away? Students want an enduring education, not a disposable piece of paper, especially not a never ending flood of it, and colleges need to realize that.