Can we please stop the Stadium Debate?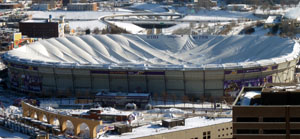 It seems that Minnesota politics have been permanently upheaved by a tragic collapse in our state's recent history.  No, not a collapse of anything we use to cross rivers, but of the roof of the Metrodome.  Ever since that fateful moment, it seems that I can't go longer than three days without seeing an article in the paper about how the Vikings need or do not need a new football stadium, or an editorial about how building a new stadium would revitalize our economy – No, wait! It would cripple the economy and make the government shut down!  (Like that hasn't happened before.)
I feel like I'm not getting something here.  What is the big deal with this stadium?  I mean, it seems that a lot of people are getting involved in the debate on whether the Vikings need a new stadium or not.  The Vikings and their owner Zygi Wilf have a lot to say on the matter, but so does Governor Dayton, and even the kid who sits next to me in math class.  But, while a lot is said on the matter… Why?
Aren't there other things we should be spending our time debating?  According to the 2010 US census, over 60% of Minnesota 11th Graders are not proficient in math, and over 13% of Minnesota children are living in poverty. In addition, the controversial Marriage Amendment is still coming, but has fallen off the news radar, being relegated to the back pages of the Star Tribune. The Stadium Debate, on the other hand, is still making front page coverage.  Why don't we talk about the Vikings' actual games?  You know, they are a sports team that plays every Sunday, even if they only play ten home games and for a 17-week regular season. Why are we spending so much time talking about where they should play, when…  Oh, wait, is that their season record? 2 and 12?  Never mind, let's just keep talking about where they should play.
Maybe the Vikings do need a new stadium, or maybe they don't, but it just seems like there are more important issues that need our attention right now.  So much is being said, but why?  It is clear that this debate is not going to end anytime soon and nothing will be resolved this season, and we have more important issues that we can actually find solutions for now.  Let's deal with those first.
About the Writer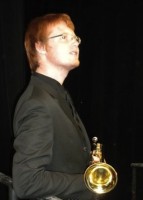 James Holden, Commentary
My name is James Holden and I am a senior.  I am super Ginger, an IB Diploma Candidate, heavily involved in our school's band program, and enjoy long...