Identity Crisis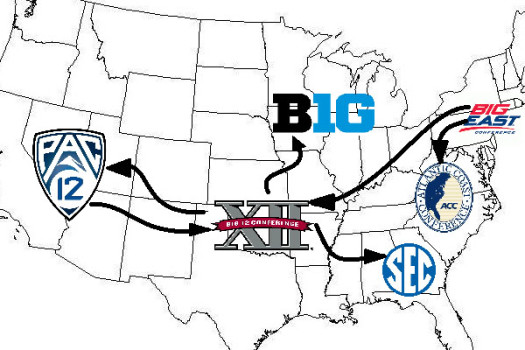 Morgan Olsen, Staff Writer
November 15, 2011
Multiple universities have made the decision to switch conferences
Conference realignment of college athletics was sparked several months ago and is now spreading rampantly across the nation, engulfing college after college into its confusing frenzy.  Universities are now whizzing around, finding new homes and new opponents. 
                Money is the driving force behind these developments.  Major television channels are ponying-up the big bucks for the newly aligned matches. Reportedly, Fox and ESPN shelled out $3 billion for rights to the new Pac12 games.  Such monetary security allows teams to develop for a decade with few worries about funds.
                This is definitely a positive for some schools, but is conference realignment really a good thing for everyone?
                Several rivalries are quickly dying off due to new conferences. For instance, West Virginia and Pittsburgh are departing the Big East for the Big 12 and ACC respectively, ending a 100 year rivalry.  Additionally, Texas and Texas A&M are saying their goodbyes along with Nebraska and Colorado, Nebraska and Iowa State, and Missouri and Kansas.   It begs the question, what's the point of football without a good old rivalry?
                Although some conferences, such as the Big 12, are losing out, the introduction of Nebraska to the Big Ten this year greatly helps the conference.  Since the inclusion of Penn State in 1991, the Big Ten has been uneven with eleven teams, but the addition of Nebraska, which split the Big Ten into two divisions (Legends and Leaders), now quiets the critics that were clamoring for a conference football championship.
                Lastly, due to realignment, college football is losing its heart.  Local play is practically dead; no longer will you simply cross state lines to reach your opponent.  Teams will be flying continuously for their match ups. Likewise, fans may lose some interest, watching unknown teams play on their home turf.  In essence, the realignment is creating a second NFL, with college football losing its fervor and spirit.