Minnetonka Wrestling
Hang on for a minute...we're trying to find some more stories you might like.
The objective of wrestling seems simple: put the opponent on their back. In reality, wrestling is much more complicated and challenging than that. It's a sport that requires agility, smarts, strength, and commitment.
Wrestling is much more complex than at first glance. The team in the end with the highest number of points is the winner. You score points all throughout a match. If you pin your opponent, it is worth six points for your team. You can also get points through different methods such as takedowns, escapes, reversals, and near falls. Even if one player loses their match, it does not mean the team loses overall.
Along with it being a complicated sport , it  also takes lots of time and commitment.
"We practice every day of the week and we have morning practices on Monday and Wednesdays." says James Johnson, '19.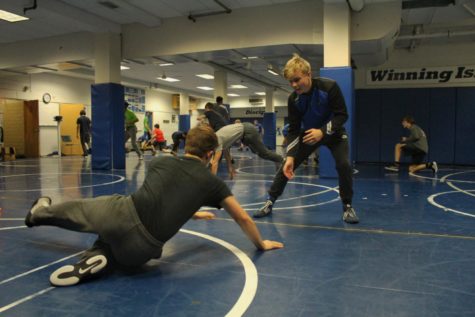 All these practices reveal how the Minnetonka wrestling team is defending 6AAA champions of two years in a row.
The boys on the Minnetonka wrestling team are some of the "hardest workers I know," said head coach Josh Frie.
"I'd say it's one of the hardest sports out there physically and most definitely mentally. Practices are hard; it's a very physically demanding sport, but it's even harder to get up early in the morning to go to practice when you could just sleep in," said Dom Scatena '22.
Make sure to support the skippers when they go out on the mats. Details for matches can be found at www.tonkawrestling.org .