Minnetonka Boys Hockey Vies for Its Second State Championship Title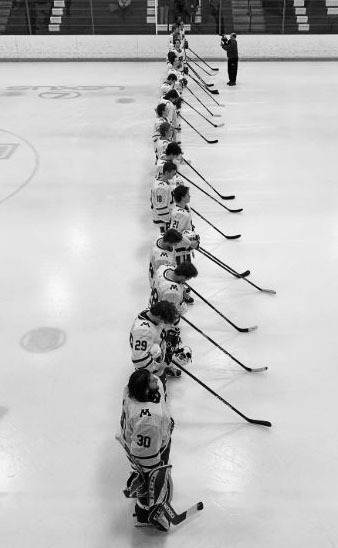 In 2018, after dominating Duluth East 5-2 in the State Championship game, Minnetonka was the undisputed state champion. Every victory, however, has the same follow-up question: what's next?
This year, Minnetonka has answered. They have the best overall record in the conference. They have only lost one game out of twenty-two. Their defense has been very impressive, with their competition scoring just 32 goals against them throughout the season. Meanwhile, Minnetonka has scored 96 against those opponents. The defense's aggressive, no-holds-barred approach tends to pay off. Routine body checks and bold offensive plays make it hard not to be intimidated by them.
Tonka's starting goalie, Charlie Glockner, '19, has an incredible save percentage of 0.938. This is far ahead of the average for the rest of the Lake Conference, 0.896. On offense, Minnetonka does not back down either. Passing is a huge part of their offense, with the most assists in the conference. They play fast to disorient the defense, often opting to just slap shot the puck from back at the blue line.
"They are persistent and intense [when shooting]" says Chloe Rieger, '22.
This means Minnetonka may not have fantastic accuracy, but by taking 86 more shots than the conference average, they still score more goals than everyone but Edina. So what do all of these stats mean for the postseason?
Past victories aside, Tonka hockey still has a long fight before they get back on last year's stage. They hope to win Minnetonka's second overall State Championship this February.
Minnetonka may have one of the best defenses in the state, but their offense is lower in the state scoring standings than they were last year. Minnetonka's style of play is changing, but they could easily be looking at a return to the state championship?
After an overtime win against Eden Prairie, a team representative  said they plan to "take it one day at a time."
One thing is known for sure: with a 7.5 game lead on Third place Eden Prairie and just three games left to play, Minnetonka will play in the Conference Championships for the second straight year. The real question is how they will fair in the 2019 State Championship.