Minnetonka Boys Baseball Fights Back for Redemption at State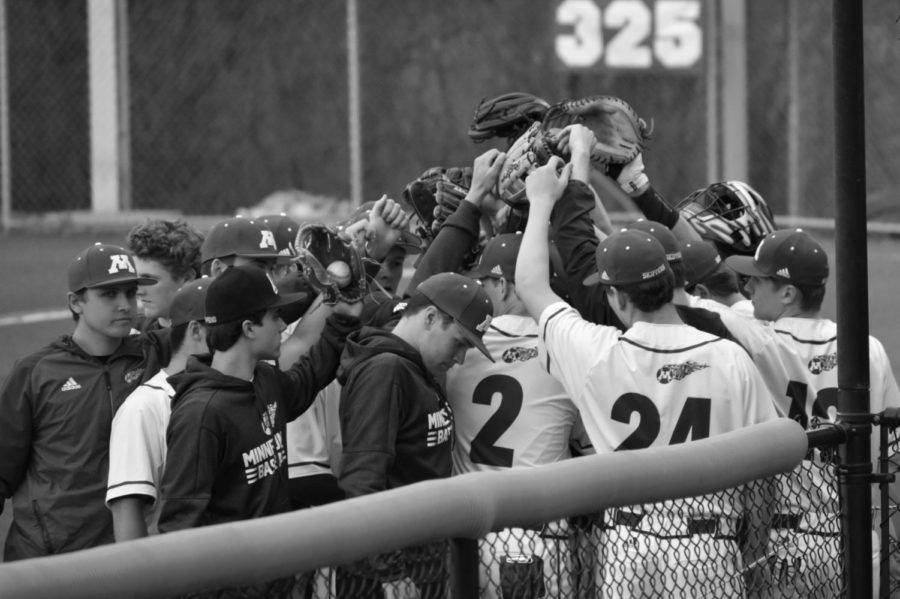 Last year, the Minnetonka Boys Baseball team, led by Coach Paul Twenge, made their first appearance in the State Championships, ultimately falling to Stillwater. In the regular season, they went 16-4 and successfully became both Section AAA and Conference champions. This year, they are fighting to make it back and win it all.
Captain Nick Thimsen, '19, has played on Minnetonka baseball teams since he was five years old and played for the Rockies T-Ball team.
This year, he hopes to "make another run at the State title" but also "want[s] to make [his] final year at Minnetonka the most memorable and fun season yet" before moving on to play Division II Baseball at Concordia St. Paul.
Last year, before section playoffs, two of the team's Division I commit pitchers suffered UCL problems in their throwing arms. The team scrambled to find suitable pitchers and develop a postseason plan.
The team lost many great senior players at the end of last season, but Thimsen said that "[the other teams] fail to realize we have a strong core group of guys who were on last year's team that have the experience of playing at Target Field."
He explained those experiences have aided them and that they "are prepared to lead this team to another Section title as well as hopefully their first State title."
Not only does Minnetonka have outstanding players, they have an excellent coaching staff to support them.
Thimsen described Coach Twenge as "the kind of coach where really it seems you love or hate the way he does things, though myself I love it. As a captain, it would sometimes seem that I'd be in his office so often during the school week that I'd miss entire hours just talking about anything. Coach Twenge in all honesty has in a way become a second father to me, and I truly have nothing but respect for the man."
Coach Twenge has been with Minnetonka for twelve years. In that time, he has consistently focused on improving all players abilities and leading the team to success.
His favorite part of coaching is "being with the players [because] it's the best thing out there."
He views the players as family and sees it as "[his] job to protect them and lead them."
For the 2018 season, Coach Twenge was nominated for and won the 2018 Diamond High School Division I National Coach of the Year. To him, this award "reinforces the fact that we've had great players who follow the system."
Twenge also said that, "The by-product of any award comes from having good players who want to play and want to learn."
This year, Twenge hopes to lead the team back to State. He's excited for this team to "figure out who they are and let them carve their own path."
The team is built around those who Twenge says are a strong core group of players: Nick Thimsen, Jake Zaetta, Mitch Klass, Ethan Rommes, Sean Arnal and Hunter Wehling, all Class of 2019. These players are experienced, excited and ready to lead.
Twenge described his coaching style as "aggressive but, informational and demanding."
Twenge also made a point to mention the amazing opportunity the Minnetonka Baseball Association has provided for all its athletes.
He said, "every player that has been through Minnetonka in my coaching truly understands how fortunate they are to be at this school, in this academic setting, with these facilities and opportunities."
So far, they have started off strong with two wins and two losses at the time of print; however, they are not conference games. Twenge hopes to see the team fight strong and lead them to another successful season.