Minnetonka Women's Softball Will Knock It Out Of The Park This Spring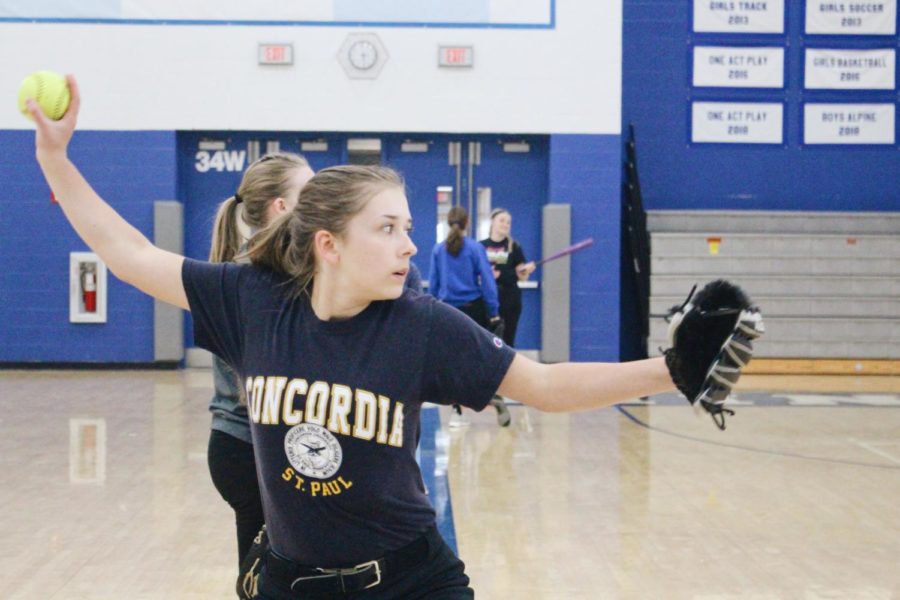 Minnetonka boasts many successful sports teams, one of them being its Girls Softball team. During the 2017-2018 school year, the varsity team won the Lake Conference and had a 15-7 record. The softball team has also won the state finals and conference finals in the past. However, much of the team last year was composed of graduating seniors, and, this year, many new players were added to the team.
This year, Minnetonka has three softball teams: a Varsity team,  a Junior Varsity team, and a B team that includes mainly freshmen and sophmores.
Mary Beth Wiig, the Varsity Head Coach who has been coaching for the last 30 years is "excited about all the talent this year."
Wiig is especially excited for the three returning, more experienced players Kate Murray, '19, who plays the position of shortstop and is also the captain, Alena Milligan, '20, who plays center field, and Lily Tammearu, '19, who plays catcher.
Wiig also stated that she enjoys coaching and the sport itself because of the "the games, the strategy, and the players" as well as the fact that the sport is a "fast sport, a team sport."
The softball season usually runs from March to May, although it occasionally reaches further into the year depending on the team's record in the season. At the time of writing, the team has had only one game (which they won) because other teams have had to be rescheduled due to Minnesota's annual April snow storm.
Annie Tammearu, '21, is on the Varsity team this year and says her favorite part of the sport is the "people on [her] team" and that "playing with people who are better has made [her] a better player as well."
She has been playing since age six or seven and is currently playing "different positions'' but "usually plays center field but used to be catcher or outfield."
She also describes that "when I was younger [softball] was just a sport but now it is something that I love doing,'' and "I can't see myself not playing softball."
Opportunities to show up and support the Minnetonka Girls Softball can be found on mtkagirlssoftball.org.