Running Recap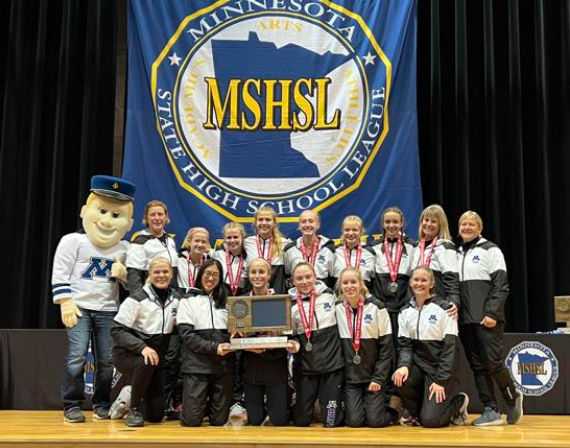 The Cross Country season has come to a close as the temperature drops. It was a very successful season for both of  the Skipper Cross Country teams.
Since August, the Boys and Girls Cross Country teams have been training non-stop to become one of the best high school teams in the state. As a result their hard work has paid off.
Last year, the girls' season fell short of their goals after they placed third in the Section 2AAA meet, just barely missing out on qualifying for the state meet. However, they didn't let the results crush their spirits, and they came back this year with the strength and motivation to improve. 
The girls became faster throughout the season, many of them running record times, placing them on the podium for many of their regular season meets. The team kept its momentum going and took first in the Section 2AAA meet, holding off the Prior Lake Lakers by 21 points and qualifying for the state meet.
At state, one of the runners, Claire Cashman '23, could not race due to an injury, forcing Kyra Martin, '24, to step in.
"It was very bittersweet," Martin recalls. Martin felt sorry that her teammate, Cashman, wasn't able to run but she was ready to do her best for the team. Overall, the Skippers gave it their all in order to face one of their biggest rivals, Wayzata, who had a deep lineup that was hard to beat. After a well-fought battle, the Trojans prevailed and the Skippers came in second with two top-ten finishers: Evie Malec, '27, in sixth and Maya Mor, '23, in seventh.
Moving to the boys, they had a solid 2021 season. The team performed very well, placing first at sections and fourth at the state meet with Nick Gilles, '23, securing the individual victory at both meets.
The boys continued their streak of success from the previous season, winning many of their regular season meets with ease. At sections, the boys pulled out another victory, scoring five of their runners in the top 10 and securing their advance to state.
At state, the boys had some more competition on the course. Wayzata, Rosemount and Lakeville North all had strong lineups, so the boys had to really step up their game in order to pull off a podium finish. "It was a rollercoaster ride," Boys Cross Country Head Coach, Jeffrey Renlund remembers. Wayzata ended up taking home another team victory, while Rosemount and Lakeville South swept the remaining spots on the podium, leaving Minnetonka to finish just off the podium in fourth. The Skippers had two top-ten finishers; Gilles on the podium in third and Max Westerlund, '23, in tenth.
"[The boys] ran tough and gave it their all," Coach Renlund explained. He added that he is "very proud" of all of the cross country runners and he is excited to see what next season has in store for them.