Teacher Spotlight: Mr. Reitemeier fosters invaluable connections between students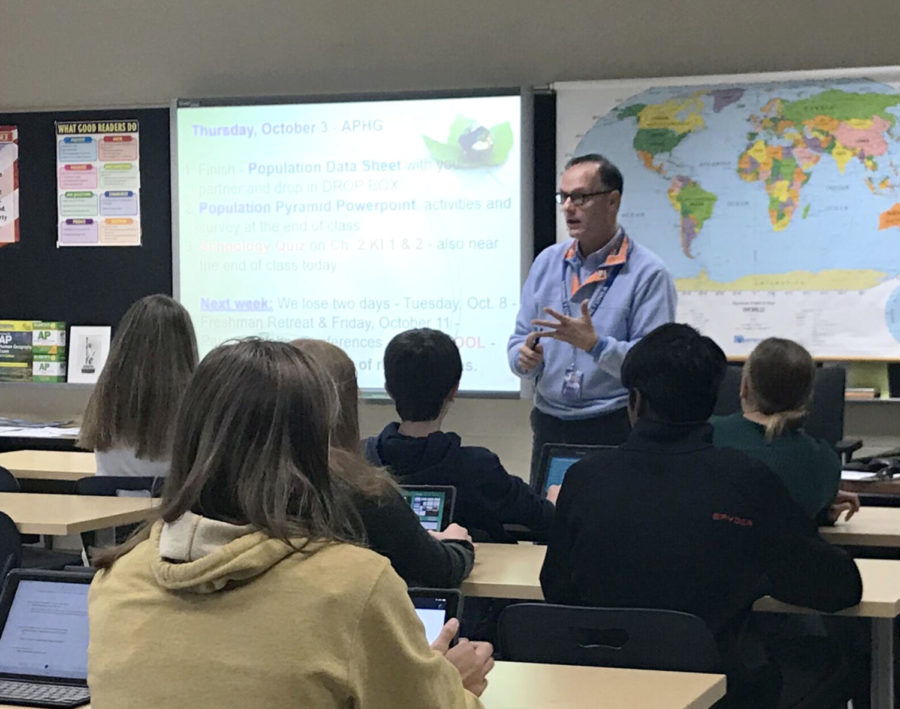 Ari Fogel, Staff Writer
October 25, 2019
Mr. Patrick Reitemeier has been a Social Studies teacher at Minnetonka High School  since 2008. He grew up in Rochester, MN, studied at St. Cloud State University, pursued a year abroad studying in Denmark, and eventually received his undergraduate degree from the University of Minnesota. Currently, Reitemeier teaches AP Human Geography as well as Contemporary United States History and is the adviser for the American Red Cross club at Minnetonka.
Students are drawn most to his personability and his evident desire to get to know each and every one of his students. He is notably diligent in his efforts to connect with each student in his class. 
"It seems like he understands what it's like to be a high school student,'' Joe Rosenstein, '23, recalled. "He always encourages us to be balanced by keeping up with school work and also spending time with friends and family…he understands that we have a personal life."
As a new student in the district, Rosenstein is grateful for Mr. Reitemeir's support in welcoming him to the school community.
Reitemeier not only teaches students a diligently-planned curriculum, he also is successful in preparing students for what their lives once they leave high school. 
"[Minnetonka students] go on to do some incredible things in life," Reitemeier explained, "and what's really rewarding for me… is to see how they flourish after school. Then you know what you're teaching them here works."
Reitemeir's effort is valued greatly by students.
"He's taught me a lot about work ethic and time management, which I know will be useful in college and a career later," explained Rosenstein.
Part of what makes Reitemeier stand out as a teacher is his dedication to apply what his students have taught him to his own life. For example, his students have encouraged him to be more environmentally conscious. He explains that he has been trying to live a more sustainable lifestyle, starting with what he does in the classroom. He seldom turns on the lights in his classroom during lessons, and has been conscientious in his efforts to limit his consumption of single-use plastics.  
"These are all suggestions that are coming from kids in AP Human Geography," he explained.
It is clear to his students that Reitemeir takes immense pride in his work and is passionate about the subjects he teaches. They appreciate the effort he puts into his engaging lesson plans.
 "It seems like he does a lot of research to find cool stuff for us to learn about every day," Rosenstein added.
Outside of the classroom, Reitemeier is passionate about hiking, biking, golf, photography, and spending as much time as he can outdoors. He also frequently goes to the movies. Throughout his life, he has had the opportunity to travel and study in various countries around the world, most notably the Netherlands and Germany. He frequently applies his experience abroad to his teaching. 
Having teachers like Reitemeir who are able to apply real-world experiences to their curriculums, as well as connect to their students on a deeper, personal level, speaks to the core principles that guide MHS teachers and the way they interact with their students.