Patriotism at MHS: Highlights from the Annual Veterans Day Ceremony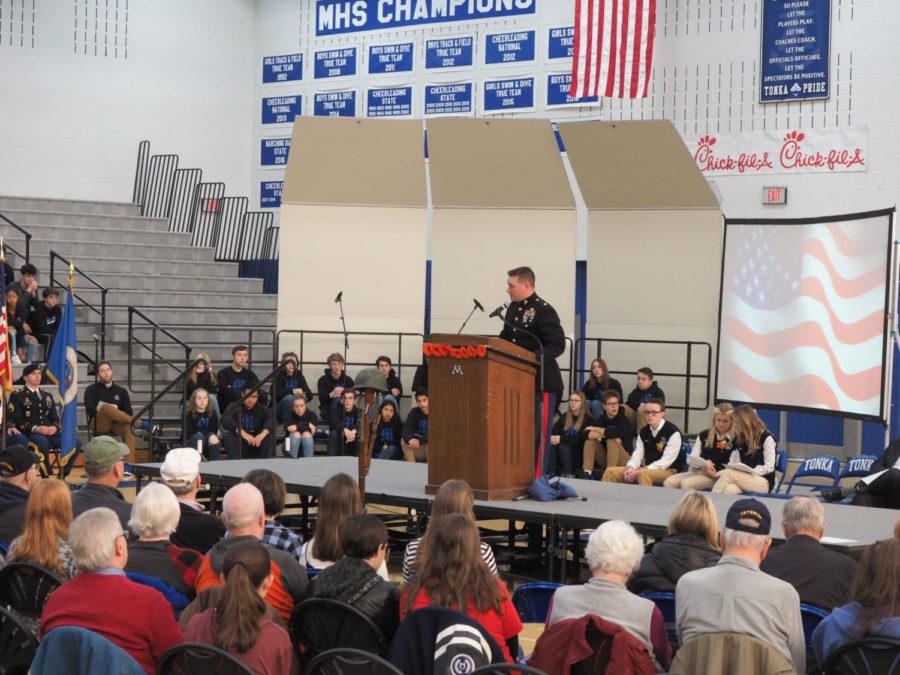 Ari Fogel, Staff Writer
November 22, 2019
Each November, Minnetonka hosts its annual Veterans' Day Ceremony. Students, parents, community members and staff fill the bleachers of the West Gym for a ceremony honoring the veterans in both in our community and nationwide. 
Student Government representatives share powerful anecdotes of the ways their lives have been affected by family members or friends serving, and the choir and band perform for the dozens of veterans being honored. The ceremony is renowned for its ability to effectively shine a spotlight on veterans and those currently serving. 
  Why does Minnetonka choose to plan and execute this ceremony every year? Should we just have school off? Student government representative Rudy Paddock, '21, doesn't think so. 
"Having a day off for Veterans Day is great, but I don't think many people would actually take that time off to reflect on and appreciate what veterans have done for us," she explained.
As the daughter of a veteran, she especially values being able to thank and honor veterans, as well as form connections with them after the ceremony.
"It's extremely rewarding when you get to talk to the vets and hear that they really appreciate the ceremony, too," she said.
Having a day off, completely devoid of meaning, she believes, wouldn't be as effective to properly honor those who served through the assembly. It is clear that the Minnetonka School District as a whole, not just the high school, values patriotism strongly.
Superintendent Dennis Peterson addressed the crowd at the ceremony, saying, "many things we do in our society, we take for granted, and we should not take it for granted. We've had a lot of people sacrifice their lives and other parts of themselves to be part of securing those freedoms."
Art Courtesy of Sophie Pederson
As a representative of the entire district, Dr. Peterson's address sends a message to each and every member of our community that Minnetonka Schools value pride in one's country and promote respect and honor of veterans.
Small symbols of patriotism can be seen throughout the year. Every classroom in the district is equipped with an American flag. Additionally, Minnetonka seems to be one of the only remaining high schools in the Twin Cities to recite the Pledge Of Allegiance five days a week. Even our middle schools reserve the pledge for Monday mornings, so why does the high school continue to recite it daily? 
Some students postulate that it serves as an important daily reminder of the sacrifices that our armed forces make each day. They argue that taking a moment out of the day to remember those who have lost their lives or are currently putting their lives on the line for our country should not begin and end on Veterans Day. Rather, simple acts and moments everyday should function as a continuation of their recognition throughout the school year. 
Others feel that while it is important to acknowledge their sacrifices, doing so every day is not always necessary.
"I think we should appreciate and take time to acknowledge that we live in a country with so many freedoms, but I don't think it's necessary to say the pledge every day, especially at a public school," says Mallory Schafer, '20. "There are people with a lot of different political beliefs and backgrounds and saying the pledge of allegiance every day doesn't have the same meaning for everyone."
Still, Minnetonka's diligent efforts to honor veterans, their families, and even students who plan to serve in the armed forces continue to establish a sense of pride and patriotism within the student body throughout the year. The annual Veterans Day ceremony is a great way to take a moment during the school day to recognize the efforts of those who have served and thank them for their bravery in protecting our country.