The Controversy Surrounding Chick-Fil-A's Previous Anti-LGBTQ Policy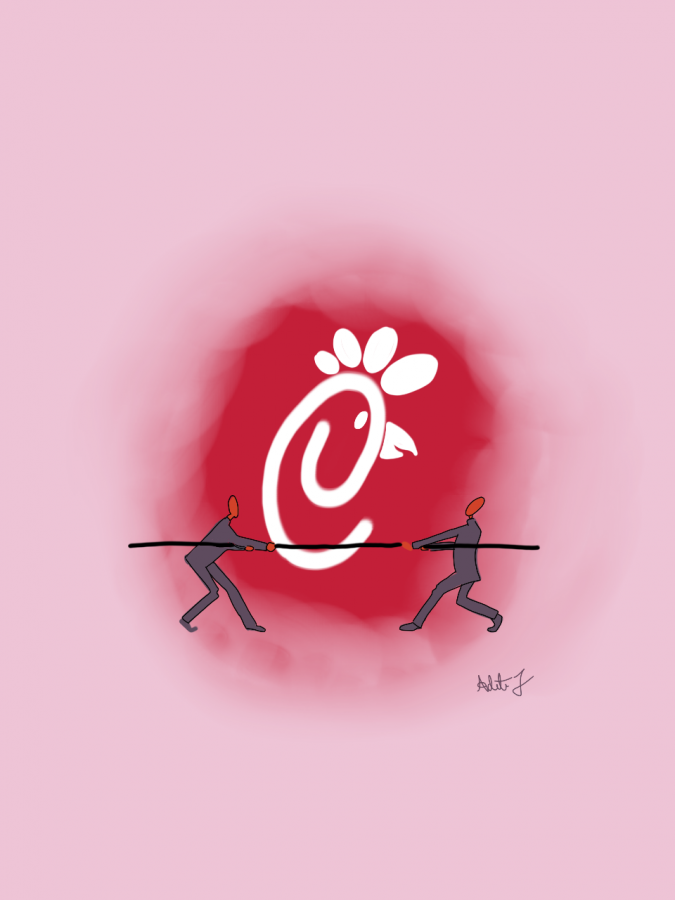 Aileen Dosev, Staff Writer
February 14, 2020
Most, if not all, students at Minnetonka High School have heard of Chick-Fil-A. In addition to its several establishments in Minnetonka and surrounding communities, the growing fast food chain has been a sponsor of MHS in the past years. The high school used to have a "Chick-Fil-A Student of the Week," and a banner sporting the restaurant's name once hung in the gymnasium. Recently, Chick-Fil-A's presence in the school has declined due to the controversial brand values that Chick-Fil-A has come to represent.
Chick-Fil-A is considered quality dining by many, who comment on its good food and friendly customer service as positive attributes. However, the founder's past actions against the LGBTQ community have cast Chick-Fil-A in a bad light.
Founded in Hapeville, Georgia in 1946, the original owner Truett Cathy's strong Baptist beliefs greatly influenced the foundation of his start-up restaurant. Seventy-four years later, Chick-Fil-A is still owned by the Cathy family and has kept most of its traditions, such as closing locations on Sundays for religious observance. Overall, the business model of Chick-Fil-A is deep-rooted in religious ideologies. 
Another belief that has leaked into the business' actions is that  marriage should only be between a man and a woman. In 2012, owner Dan Cathy made a public statement against gay marriage in a radio interview, claiming that God would exact his judgement on the new generation that has "the arrogant audacity to redefine what [constitutes marriage]." His comments sparked backlash from LGBTQ people and allies alike, who called his actions homophobic. Cathy stuck with his argument and faced the criticism, saying he was "guilty as charged."
Chick-Fil-A has also made controversial donations to anti-LGBTQ organizations in the past, which has granted the brand the most infamy. In 2011, a Pennsylvania Chick-Fil-A donated food to a marriage seminar conducted by the anti-gay advocate, Pennsylvania Family Institute. This caused a nation-wide boycott of the restaurant. Cathy responded with a video, stating that although he believes in "traditional marriage," his company did not have an anti-gay agenda.
Later that year, tax records obtained by Equality Matters, an LGBTQ advocacy group, showed that the Cathy family had donated more than $1.9 million to anti-gay groups through their charity, Winshape. 
This included a major sum of $1.1 million donated to the Marriage and Family Foundation, which opposes both gay marriage and divorce. Chick-Fil-A has also donated to the Salvation Army, known for refusing aid to trans individuals, and Exodus International, an anti-gay conversion therapy center.
Although there have been considerable boycotts and protest against the Cathy family and Chick-Fil-A, people still frequent the restaurant. This is mainly due to the lack of food chains that produce quality chicken sandwiches, although Popeyes has gained attention as a more accepting alternative. To clear its bad image, Chick-Fil-A has announced a change in its philanthropic giving plan. 
In 2020, Chick-Fil-A has planned to donate $9 million toward three causes: promoting youth education, combating youth homelessness and fighting hunger. It plans to do this by giving to organizations near new 2020 Chick-Fil-A locations, including Junior Achievement USA and local food banks. 
The CEO mentioned that this new donation strategy is partially related to the constant backlash Chick-Fil-A has received from their previous donations, saying that "[the company] needed to be clear with [their] message." 
When asked whether or not Chick-Fil-A will permanently stop donating to anti-gay organizations, he responded with "no organization will be excluded from future consideration–faith-based or non-faith-based."
Although the new giving plan is a step in the right direction, the LGBTQ community is still hesitant about celebrating. Chick-Fil-A's announcement does not guarantee the company will not continue its anti-gay donations in the future. Furthermore, Chick-Fil-A still lacks policies to protect LGBTQ employees from discrimination. The general consensus is that Chick-Fil-A should show more direct support to gain the trust from consumers. 
With MHS being such an open and safe place for LGBTQ students, Chick-Fil-A's sponsorship of the school has been confusing for many students. Olivia Smith, '21, a member of the Gender Sexuality Alliance (GSA), sheds light on the situation and the effect it has had on LGBTQ students. 
"A lot of students support Chick-Fil-A without knowing what they've done in the past," she said. "There are many others who feel invalidated."
However, MHS has made efforts to better the situation. 
"They've taken down the banner in the gym, which has been a good thing," Smith added. She also mentioned the switch from the title "Chick-Fil-A Student of the Week" to "Skipper of the Week" on the school announcements, a change requested by the GSA. Furthermore, MHS now rotates the giftcards for these selected students from a variety of fast food restaurants, though Chick-Fil-A is still included on this list. From Smith's perspective, these actions have created a more welcoming and positive school environment.
"Open dialogue and discussion would really help students understand each other better," Smith explained, reflecting on further steps that can be taken to increase inclusion around the school. "And transparency will make the school a much better place for LGBTQ students and all minorities."