First Mates vs. Covid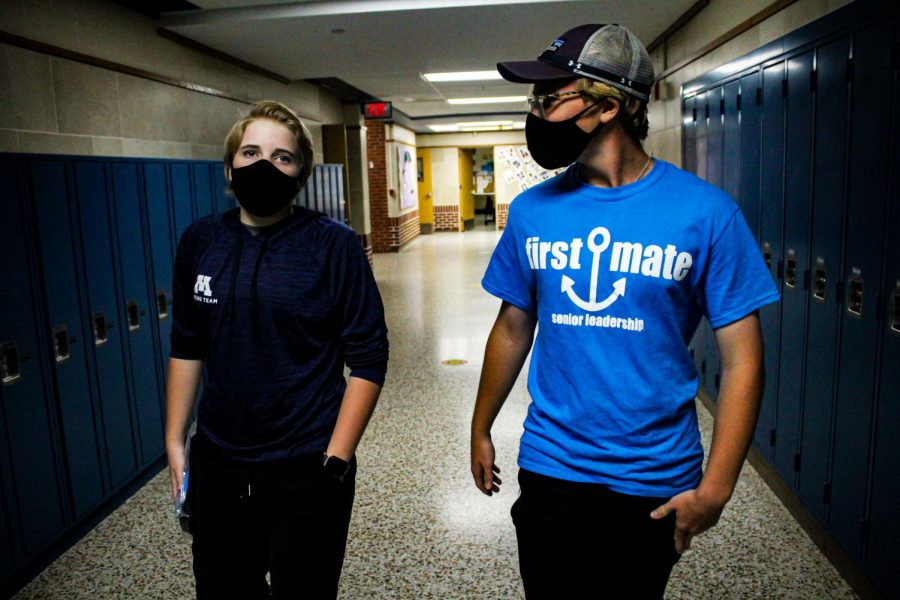 This fall, the Class of 2024 had the unfortunate distinction of being the first class to enter Minnetonka High School almost entirely virtually. After hosting the first graduation on Einer Anderson Field in 35 years last spring, the Minnetonka School Board had to overhaul its freshman orientation system as well.
In a normal year, around 100 First Mates assist freshmen in transitioning to life at a colossal school of over 3,200 students. These senior guides give school tours, share inside tips, and serve as friendly faces in crowded hallways. Many other schools offer a similar program to First Mates, but Minnetonka stands out in the continuity of its program. Not only do First Mates share their phone numbers, ready for any other questions, but they continue to check in on their group throughout the year. Tyically, this would entail at least one meeting a month from September through December and possibly a couple more sprinkled at the end of the school year. The idea is to get freshmen off the runway and slowly step away as they take flight in their high school careers.
Freshman Orientation, the first and (arguably) the most memorable of these meetings, went down rather smoothly this year. Students were spread out over four groups, dressed in masks and socially distanced across the campus. The only instance in which freshmen entered the building was for a brief tour, led by their First Mates. Every group had a different entrance point to the school to reduce contact, and those not comfortable with attending in person could tour and connect for their orientation virtually. Amy Livorsi, one of the First Mates advisers, emphasized that safety was absolutely the top priority.
"I think everyone felt safe," said Liam Cassidy, '24, one of this year's freshmen.
Due to the emphasis on caution, some of the more carefree games were abandoned. Orientation was abridged to fit the new restrictions, and the whole operation had a more subdued feel to it.
"We finished with 45 minutes left, so we just sat around and played random games," said Cassidy. "It would have been nice if we had less downtime."
Despite the minor hiccups with revised activities and shrunken groups, the first day of orientation was a huge success. Minnetonka managed to triumph over its circumstances and deliver yet another meaningful underclassman greeting.
"[Orientation] made me better connected–for sure," agreed Cassidy. "It was definitely a positive experience."
The biggest reason for this success lies with an obvious group: the First Mates. According to Livorsi, the leaders had not even met their advisers until a week before orientation. Seniors had just a week to form a plan for their group and add in the small touches that make every group feel special. With almost no warning, the eldest Skippers were ready.
"I've been absolutely blown away by this year's group," said Livorsi. "Their leadership has been outstanding, and I think the freshmen will benefit enormously from their work."
Livorsi and her crew came up big this fall, but the future remains unclear. The First Mates are still formulating a plan for embedded meetings during the year, but they're not sure if these meetings will be as frequent as they were for previous classes.
Optimism is the name of the game now, and the First Mates are confident in their abilities to keep calm in the storm. From historic graduations to crashed history lectures, it seems First Mates will always be there to support Minnetonka's freshmen.