Service Opportunities in the Minnetonka Area You Can Do During Covid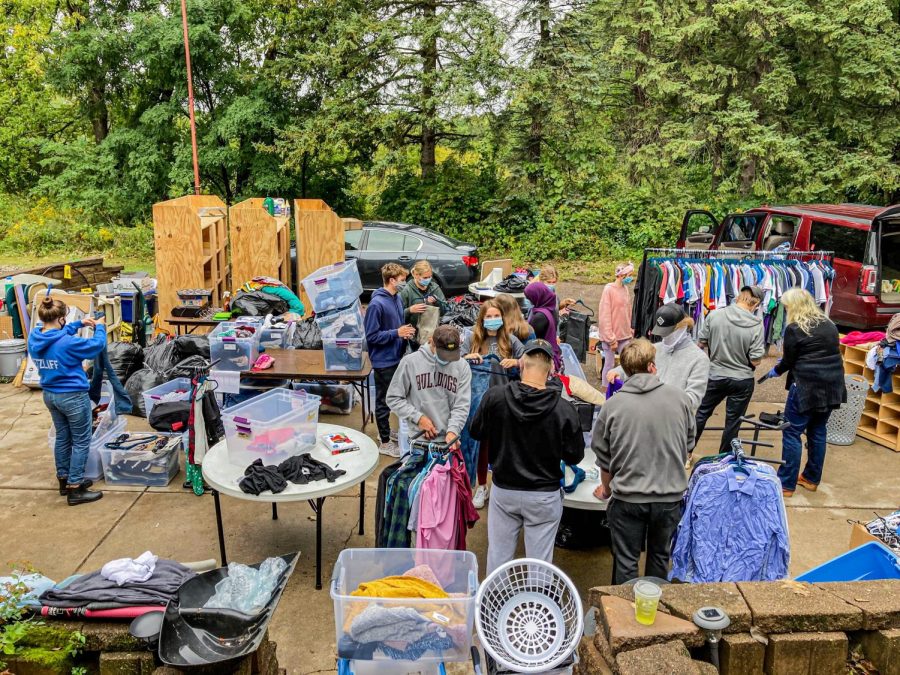 Volunteering has always brought joy and fulfillment to many people, especially high school students who long for more experiences and connections. Minnetonka recognizes the impact volunteering has on its students and has always made it a high priority through extracurriculars like Backpack Tutoring and Tonka Serves. In the wake of COVID-19, the school board has taken measures to encourage community service to continue in spite of challenges.
Minnetonka is widely renowned for its vast service opportunities. From dedicated clubs to Sarah Johnson's weekly updates on events in the community, students have never had an issue finding ways to volunteer. Since the start of the COVID-19 quarantine, though, finding places to volunteer hasn't been as easy as before. It's quite an unfortunate situation, considering the community's (and vulnerable citizens') increasing needs in the wake of COVID. Despite the huge challenges they face, there are still plenty of students willing to reach out and help. Luckily, there are plenty of safe volunteer opportunities students can do from home or socially distanced.
One leading figure in this push for community service is Johnson, the new Community Service Specialist at Minnetonka and adviser of Tonka Serves for all ages in the Minnetonka School District. As the Community Service Specialist, Johnson acts as a guide for Minnetonka students seeking service opportunities and collaborates with the student-led service clubs within the high school. Johnson's main goal is to "encourage servitude" within the district, and help make those opportunities available to students. 
Johnson acknowledges that finding safe service opportunities during COVID-19 has been a bit of an adjustment, but she emphasizes that there are many new ways to volunteer, in person and at home. Although large volunteering events are not an option now, organizations have shifted their focus to respond to the pandemic's restrictions. 
"They're really focused on the needs of the community right now, like food insecurity, housing security, [and] people feeling economic hardships based on the pandemic," said Johnson. 
Johnson has continued to update the Tonka Serves Volunteering Schoology group with various volunteer opportunities regularly. Many of these opportunities run through Minnetonka Public Schools, but there are also organizations outside of the district that remain open to volunteers. 
Feed My Starving Children, one of these organizations, has been holding socially distanced packing events. In these carefully planned sessions, people can come in with a small group and pack meals to send to people in need around the world.
There are also many organizations in Minneapolis who have been responding directly to pertinent needs during the pandemic. One example is the Sioux Chef, a restaurant in Minneapolis whose goal is to use traditional Native American ingredients to revitalize Native American foods. They recently received a grant to make meals for the homeless every single day.
"They are looking for volunteers to help them cook all this food and to prepare the bowls that they're going to hand out. I've done that a couple times," said Lauren Fligge, '23, a Minnetonka sophomore who has taken advantage of service opportunities over the summer.
In addition to volunteering to feed those in need, many students have also written letters to seniors to fend off quarantine loneliness. Many men and women in senior living homes have been unable to see their loved ones or find the same connection to the outside world since the pandemic, which makes this project a quick and impactful way to help someone in need.
Minnetonka students have also been finding ways to support the educational community by virtually reading books to elementary school students. They can either record a section of the book (this method is more often utilized for chapter books) or read the books live in socially distanced environments while children follow along. It's a great way to keep younger students engaged, and it's something many Minnetonka teachers have found very helpful.
It's crucial that we recognize the necessity of volunteering right now. Although circumstances have changed, there are still plenty of people in need, some more now than ever. 
"I think it's really important that we actually pay extra attention to community service projects that we're doing," said Fligge.
Be sure to check out the Tonka Serves Volunteering Schoology group for more information on local service opportunities. Even during a global pandemic, there are always ways to help people in your community.