E-Cigarette and Nicotine Use Among Teenage Population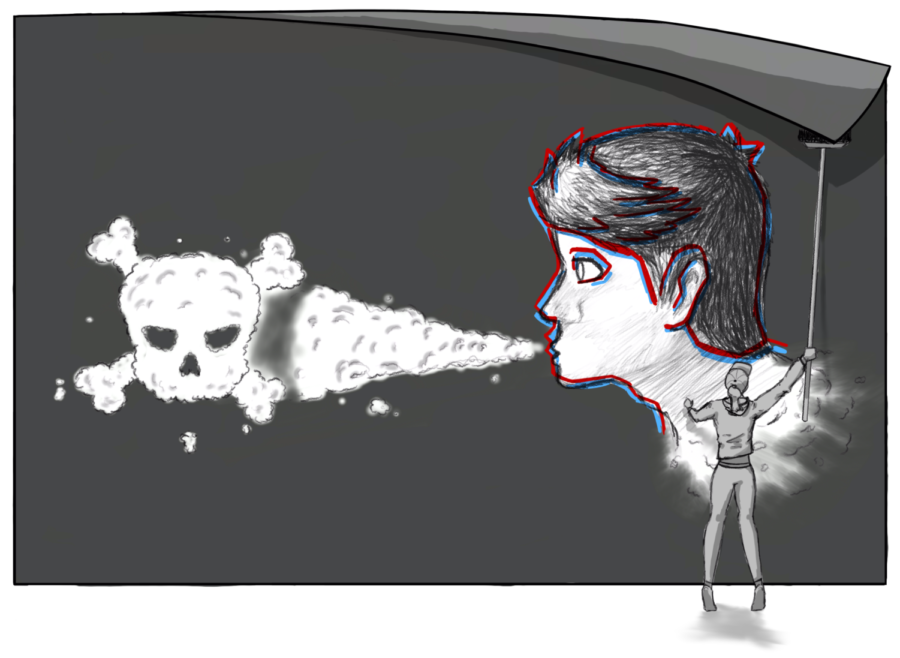 Vaping has reached a point where its scent is recognizable by most high school students. Everyone from experts to Instagram ads now calls the widespread popularity of vaping an epidemic, and justifiably so. The 2017 Minnesota Youth Tobacco Survey found that one in five high school students currently vapes. This statistic, while unsurprising to many teens, raises serious concerns.
One such concern is the targeting of youth in e-cigarette marketing schemes. To investigate, on September 28th, the headquarters of Juul, currently the largest e-cigarette seller, underwent a surprise inspection from the Food and Drug Administration (FDA) and was forced to hand over more than a thousand sales and marketing documents, according to an FDA report. This search was conducted with the intent of determining whether the popular vape company is intentionally marketing its products to minors. There has been a lot of concern regarding Juul's flavored nicotine liquid, with many fruity or candy flavors that are particularly appealing to adolescents. While it is illegal to manufacture traditional cigarettes with any flavor other than menthol, e-cigarettes face no such restrictions. This allows the industry to appear much more attractive to adolescents, with flavors such as cotton candy and banana split.
Additionally, the FDA has sent 1,100 warning letters and issued 131 fines to retailers selling vape devices to minors. Although illegal, many stores ignore the age requirement when concerning e-cigarettes.
The Minnetonka community is also doing its part to limit teen use of e-cigarettes. Just this month, Excelsior became the 13th city in Minnesota to raise the legal age to purchase tobacco and e-cigarette products to 21, as well as restricting the sale of these products within 500 feet of schools. The unanimous vote came on October 1st with full support from the city mayor, Mark Gaylord. He called it "an easy ordinance to move on."
Minnetonka High School students were also involved: Student Government members Cameron Anundson, '19, and Nick Gordon, '19, spoke to the city council about the issue. "E-cigarettes, especially Juul, which is the name brand, are essentially ubiquitous in the teenage community at this point," said Anundson.
Because of this new ordinance, the E-Cig Vape Lounge will be closing its location in downtown Excelsior. One of the store managers, who asked to be quoted anonymously, said that he too has had concerns concerning minors accessing the store's products via legal adults.
The manager explained, "What I've seen or heard is that younger kids or minors want a higher amount of nicotine, specifically 35-60%. I believe that can be harmful in the sense that nicotine poisoning is a thing, and the sense that a lot of these people have never touched a cigarette in their lives. Suddenly, they're smoking or vaping on enough nicotine that equals a pack or more of cigarettes, so, suddenly, they're addicted to something that wasn't even an issue in the first place."
Nicotine addiction is definitely the most prevalent concern when it comes to vaping. According to a survey done by the Truth Initiative in 2018, "63% of Juul users don't know that the product always contains nicotine."
This means that some teenagers are consuming a highly addictive substance without being conscious of it.
Because e-cigarettes are newer to the market than cigarettes, there is yet to be extensive research on the long-term effects of their use. In fact, e-cigarettes remained unregulated by the federal government until August 8th, 2016. There is a widespread belief that e-cigarettes are healthier than regular cigarettes, but the truth is that more research must be done before anyone can know the full long-term effects of e-cigarettes.
The American Heart Association released studies last spring that suggest some of the flavor additives used in vape juices negatively impact both blood vessels as well as the heart muscle cells. However, even these studies are only preliminary and more needs to be done for the results to be repeated and confirm that the findings are definitive.
At Minnetonka High School, risks of vaping have recently been added to the health curriculum to combat its increasing popularity.
Mrs. Dow, speaking for the school's health teachers, told Breezes, "Our first year teaching, there wasn't a ton we were talking about it because there still wasn't a ton of research out there, and there still isn't a lot to work with, but there is enough to know that it's having a huge effect on people's lives, and obviously with the brain a lot of impacts on that."
An Association of Nonsmokers-Minnesota survey from 2016 about MHS found that 21.7% of juniors had used an e-cigarette device within the last 30 days. Two years later, this statistic has likely increased. Students will often find ways to subtly vape at school, including hiding their device in a water bottle or backpack, or simply move to a secluded area.
Student Bryce Smith, '20, agrees that vaping in the bathrooms is "pretty noticeable." Although Breezes encourages students to keep from vaping anywhere, no statement concludes this article as well as Smith put it, "don't Juul in school."