Contemporary Coffee Shops and How Design is Taking Over Minneapolis
Jamie Hessian, Deputy Arts and Entertainment Editor
November 26, 2018
Hang on for a minute...we're trying to find some more stories you might like.
Coffee shops offer a place to study, work, socialize, and of course, a delicious cup of coffee. This is why coffee shops have become one of the most popular places for people of all ages to hang out. It is no wonder they have sprung up all over the place. Minneapolis offers some of the most unique coffee shops. Around nearly every corner, there is a coffee shop with its own unique theme, design, and coffee.
One example of a unique coffee shop would be Fairgrounds in the North Loop. It just opened this summer and has already become popular among residents of the area. The art and decorations create a vibrant environment mirroring the aesthetics of a fairground, as its name implies.
"The owners liked the idea of being fun and outgoing," Zowie, an employee at Fairgrounds, explained. "Their idea of Fairgrounds came from being fun and youthful in themselves and just enjoying their time at a fairground. We bring a lot more options and diversity in our drinks than almost any other cafe around us," said Zowie on what makes Fairgrounds unique.
Fairgrounds was meant to be a place for people to come and hang out while being able to try new drinks and experience new things.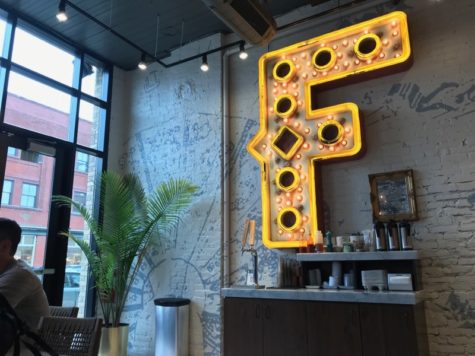 Another coffee shop is Spyhouse, with locations in the North Loop, Uptown, and St. Paul. It's brick walls and wooden tables create a rustic, yet industrial atmosphere. It large and bright "city" sign offers a photo opportunity for those on social media. This unique design and appeal draw many customers of all ages to Spyhouse. It is a perfect place to work from home or study. It is also a great place to quickly get a delicious drink and pastry.
With several locations around the city, Dunn Brothers also remains one of the best. One of the more known locations is inside an old train depot. The ever so popular industrial yet modern design allowing for a relaxing atmosphere to the community and offer many people a place to relax, study and socialize.  Also located in Downtown, the very contemporary and bright coffee shop, Penny's, uses its unique design to draw in customers.
"It is very modern-looking and it has an outside patio area with plants […] I like talking with people, and I also go to coffee shops to do homework sometimes," Anna Wander, '20, said.  
While these coffee shops are more expensive, many people find it worth the money. It is not only a purchase of coffee but an experience in an artsy atmosphere. Coffee shops like these create a social gathering place for the community. They make a neighborhood a little more vibrant and unique. With a wide array of coffee shops, almost anyone is sure to find one that is perfect for them.